Have you decided to move your logistics operations to a new warehouse? Or do you need a flexible storage system for bulky products? How do you solve the urgent need to find space for products during peak production periods?
The main objective of any warehouse is to store products efficiently. To increase productivity and profits in this area, it is very important to make maximum use of the available space. Each warehouse owner adopts a different strategy to suit their company's needs in order to obtain maximum benefits.
Today, many businesses are opting for a mobile pallet racking system. This is due to various reasons including....
Temporary demand for shelving space
Storage of non-standard sized products
Installation of warehouses and production halls
So, here are the advantages of this type of system and common questions that may arise when deciding to buy or rent mobile pallet racking.
What are mobile pallet racks?
Mobilrack, known as post pallet is a stackable steel rack with a rectangular base. Pallet racking makes it quick and easy to build a storage structure using galvanised metal bases and a range of brackets of different lengths. The special feature of post pallets is the innovative design which allows you to quickly build a racking facility for pallets, tanks or tyres, and fold up to save space when required.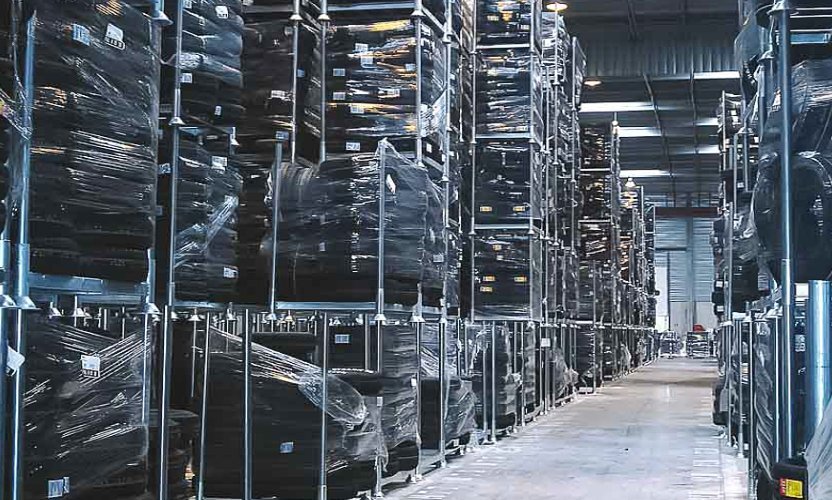 Where are they used?
They are used for storage and transport, especially for larger, bulky items. Post pallets are valued in warehouse environments and are often used for semi-permanent storage. This type of racking adapts to the needs of the warehouse as it is used to store irregularly sized materials. Mobile rack systems are typically used to store and transport larger, bulky items, including those already on wooden pallets or in plastic crates.
Space-saving pallet racking is widely used in the following industries:
Manufacturing industry
Automotive industry
Warehouse
Logistics
How do they increase storage space?
With post pallet racking, you can change the entire layout of your warehouse to be more space-efficient. Space optimisation is possible with the vertical storage system. More storage capacity helps increase your business profits, as you have more space to store more products and goods in your warehouse.
Post Pallet Racks can be stacked up to four levels high (1+3), making them ideal for goods that would otherwise take up too much floor space. Pallet racking can be easily stored and handled with a forklift truck. Portable stacking racks are ideal for saving space when a large storage capacity is required.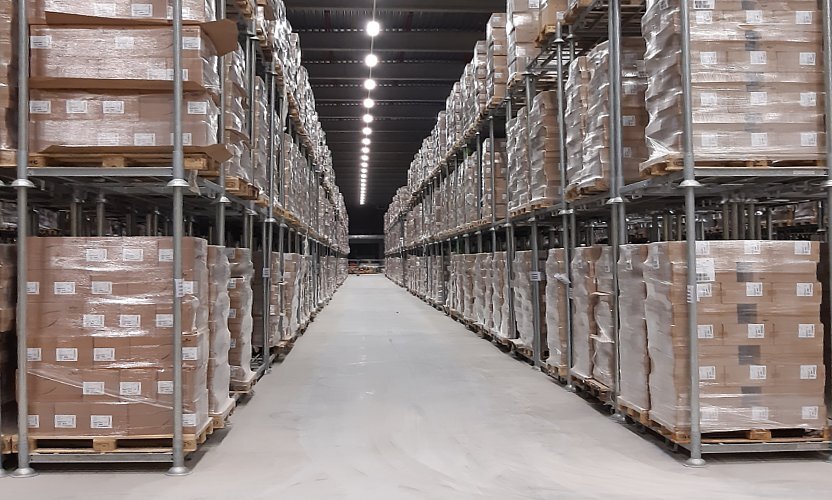 Will the goods be stored safely?
The pallet racking system provides maximum safety for warehouse workers. A strong feature of the pallet racks is that they are made from high quality galvanised steel. They are TÜV certified, meaning that the metal used in the construction of the racks is suitable for transporting and storing products.
The racks are galvanised which prevents rust from forming, are scratch resistant and more durable. Importantly, the capacity of the pallet rack is dependent on the length of the spacer tubes. In practice, this means that they will easily be able to bear the weight of massive, heavy objects. Thanks to the specific design parameters and set of dimensions, the racking provides balance and safety during loading. This means less risk of accidents due to poorly designed construction.
Can pallet racking be freely adapted to your warehouse needs?
The convenient design of pallet racking ensures maximum use of space, regardless of area. This is evident through the customisation options. Mobile rack storage racks consist of a carrier base (available in single and double base sizes) and a range of upright tubes of different sizes. These give you the possibility of fast and flexible construction of your storage racks You can adapt your racking sizes to the flow of your currently stored load.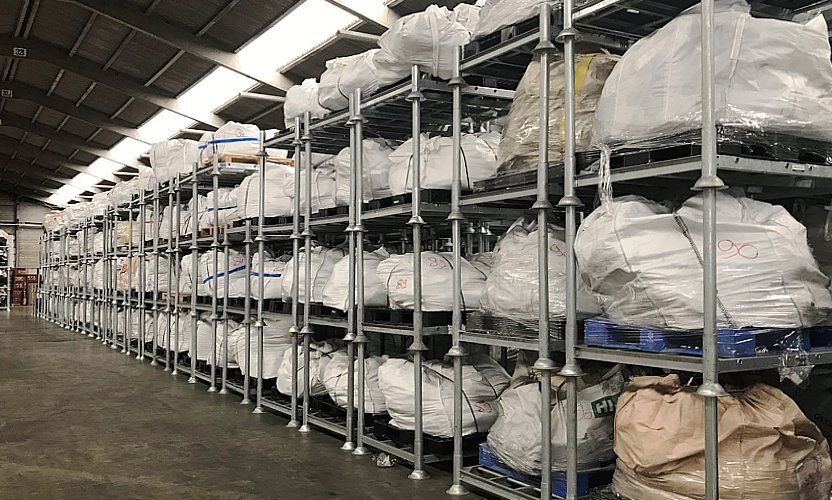 Pallet racking is an effective way to store your warehouse stock. It is a cost-effective option that will help you maximise your space in ways you never thought of before. It gives you greater convenience, increases productivity and allows for a variety of configurations.

What is the "mobility" of pallet racking?
Some people have the misconception that stacking racks with stored goods are non-portable and that transporting them from one place to another is difficult.Turns out, this is not a problem with the Mobile rack.
Using this stacking solution, you can easily move goods with forklifts on a single rack level. This proves extremely useful in logistics as it makes it easier to move and load heavy goods. Another advantage is that once the racks have been emptied, they can be folded up to regain the needed space in the warehouse.
Can they be stacked?
Stacking is a long known storage strategy and is an ideal storage solution. It is proven to really save space and results in a clean and tidy arrangement of goods in the warehouse.These racks help in stacking goods efficiently at a higher level. In addition to being stackable, access to goods is very easy.
What to keep in mind when stacking?
The order and weight of the stacked load
One of the most important things to look out for when stacking is to make sure the goods are in the correct order. First of all, the heaviest weights should be kept at the bottom. Then as the level increases, the weight should be reduced. It is important not to exceed the maximum weight per level when loading goods. This results in efficient storage management in the warehouse.
Loading goods to the correct level
One of the most common mistakes made in the warehouse is setting stacks of goods too high, above their maximum limit. It is important to keep the load capacity on the racks in line with the supplier's recommendations.
Know your storage plan
Maintain an appropriate racking layout to ensure optimum use of the available space. remember the correct spacing between racks needed for comfortable pallet truck operation.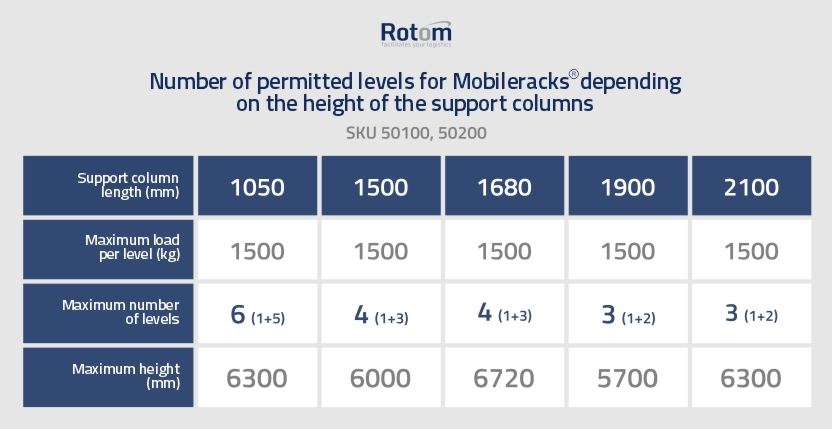 Can the racks be stored outside?
The Mobile racking system works well inside and outside the warehouse. It is important to provide a level, flat and stable surface when setting up outside. With any racking it is important that it maintains its quality over a long period of time. Corrosion is one of the most common phenomena that reduces quality. It is therefore always advisable to use galvanised racking like the Mobile rack post pallet systems. This prevents damage to racks stored outdoors.
In summary, why opt for pallet racking?
flexible way to increase storage space
any configuration
possible to work indoors and outdoors
choice of 1 and 2 pallet version
very fast assembly and disassembly
available for hire
TÜV certificate
Peak season or overproduction? Rent pallet racks
When your company has intensive production times or many orders, you need extra storage space. You can rent post pallets when your company needs them most. We have a huge stock of racking, providing the perfect solution for seasonal demand or sudden periods of high traffic. With a flexible rental option, you don't need any additional capital outlay. After the peak period, we collect the racks from you and you don't have to worry about maintenance and storage.
Are you interested in the topic of mobile storage racks? Would you like to buy or rent larger quantities? Fill in the form or call us and our specialists will advise you on the best packaging solutions for your industry.
You can read about the role of the right packaging and storage solutions on the blog: