Holidays, holidays, and...after holidays! It turns out that after an intense peak period, there are huge stocks of packaging left in storage. Moving from the busy season to a more regular schedule means having more pallets than needed. These additional packages take up valuable space that can be used for other revenue-generating activities.
It is currently a typical practice in many companies and distribution centres to collect large numbers of pallets throughout the supply chain process. Finding a place to store surplus packaging can be quite a challenge for any business owner. That is why we understand the need to tidy up storage space in order to increase output, rotate stocks and tidy up work areas.
If you have a lot of unnecessary pallets, plastic or metal containers and want to get rid of them, we can help you! Whether your pallets are in perfect condition or need a minor repair, you will be able to dispose of surplus stock and even be paid for the quantity and quality of the pallets you want to sell.
What kind of packaging do we buy?
The most frequently purchased packaging includes wooden and plastic pallets. This mainly concerns standard packaging sizes such as Wooden Pallets 1200x800 mm, 1200 x 1000 mm, 800 x 600 mm, CP pallets, H1 Plastic Pallets, Düsseldorfer type reinforced pallets and others. We are ready to accept all your pallet surpluses regardless of their quality and condition. We buy all packaging at a fair market price. If you have a large quantity with a size not listed above, payment is still possible depending on the total quantity and pallet grade.
Maybe you have upgraded your manufacturing or warehouse processes and need new Gitterbox containers to fit a different factory layout? Selling older containers is an easy way to free up space and bring new products into your business. At Rotom we regularly buy used mesh bins, metal containers, pallet racking, roll containers, metal collars and plastic containers from companies for refurbishment and resale.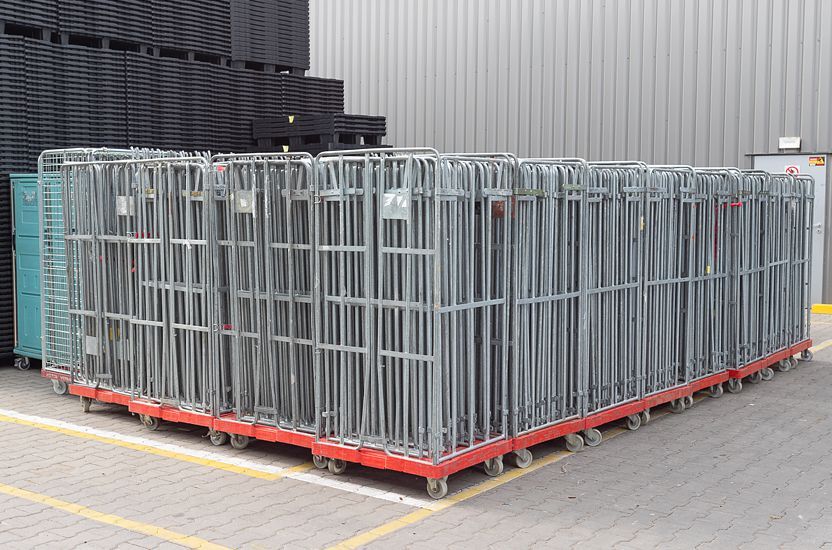 What to consider if you want to dispose of used packaging?
Before contacting us as a specialist in packaging management, there are several things to consider:
Are you a pallet owner?
This may sound strange, but it is important that you have full ownership of the packaging. It is important that you make sure that all the pallets you want to sell belong to you and that you can sell them to us by issuing an appropriate document (VAT invoice).
Number of stocks and frequency of use
Identify objectively how many packages you have in stock and how often they accumulate. If the number of unnecessary pallets in your warehouse is systematically increasing, we will be happy to establish a permanent cooperation within the framework of a buy-back. As a manufacturer and collector of packaging, we can easily arrange a collection plan tailored to your business needs. We also accept "pallet exchange" (old for new) for customers wishing to refresh their packaging stocks.
Waste management
At Rotom we provide comprehensive management and control of packaging. This helps you save time and money. It is also in line with our sustainable development policy, bringing with it concern for the environment.If you want to sell packaging that you no longer use, you issue us with a waste transfer card. This is important because of the obligation to keep records of the quantity and type of waste produced as specified in Article 66 of the Waste Act of 14 December 2012. Thanks to this you will pay a significantly lower or 0 rate of environmental fee.
By purchasing pallets, pallet collar extensions, metal containers and other packaging, you gain space in your warehouse while giving them a second life. In this way we together take care of the environment as we carry out extensive activities aimed at bringing used pallets back to the market without using new forest resources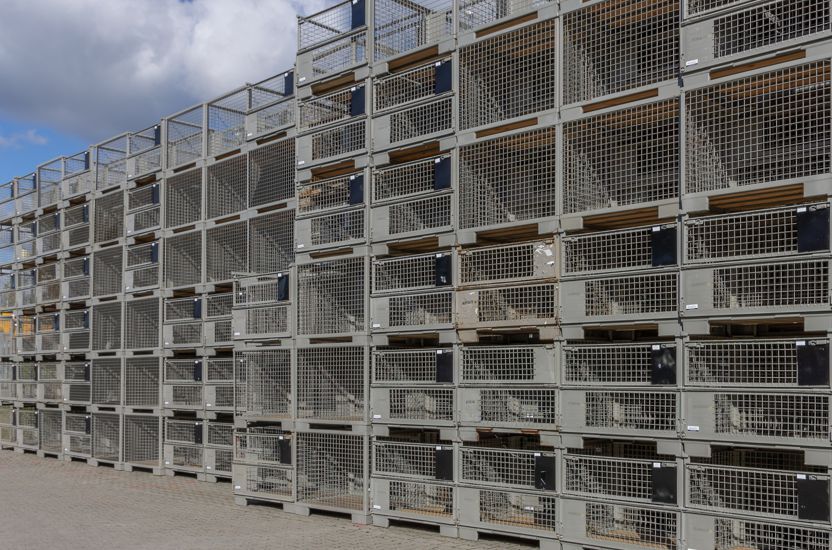 Benefits of packaging buybacks
If you have wooden pallets, plastic pallets, pallet collars, metal containers or other packaging that you no longer use, we offer fast pick-up from the place you indicate to us. We also guarantee an accurate assessment of the quality and quantity of packaging, thanks to which you will always obtain the correct value of used pallet stocks.
The packaging buy-back service comes with real benefits for you. You can gain funds for other investments or combine the sale of used, unnecessary packaging with the purchase of new packaging. In this way you can, for example, reduce the cost of purchasing new pallets, while at the same time solving the problem of old ones, and gain free space in your warehouse.
Responsible planning of pick-ups results in cost optimisation and, consequently, a higher purchase price of packaging. Not only is pallet resale an extremely good environmental practice, but it can also help to reduce waste and increase efficiency, saving your company money in the long run!
How to get rid of unnecessary packaging?
Take a picture of the packaging you want to sell and send it by e-mail or fill in the form - we will send a copy of your enquiry to your e-mail address. You can also enquire about the repurchase price of the packaging directly from the specific product page on our website. In either case, we will contact you and, after evaluating the packaging submitted for repurchase, we will provide you with our offer free of charge.
Buy back of pallets and other packaging in many places across the UK and Europe
We have professional buy-back teams in 5 locations in Poland. They provide a fast and inexpensive pallet buying service in your area - as soon as the next day. And if your packaging is in multiple warehouses in other countries? That's not a problem for us, because with 20 depots in 9 countries, we can collect and transport your packaging to the nearest Rotom depot in Europe. This allows you to get a higher price.
Trust the experienced specialists
Whether you want to buy packaging, resell it or have us handle your entire inventory, the Rotom Group has solutions that will optimise your supply chain anywhere in the UK or Europe. For many years we have been committed to high quality packaging for various industries. We also have the necessary knowledge and experience to operate quickly and reliably, focusing on your needs.
Although peak periods change like a kaleidoscope, give yourself the gift of a tidy warehouse in the new year! With our support, managing pallets and other packaging will no longer be a problem.
Read more on the blog: