Are you running out of space in your warehouse due to unused or damaged wooden or plastic pallets? Are you looking for new ways to reduce the cost of logistics products? The packaging repurchase program is certainly beneficial for you! Below, in the article, we will define the packaging repurchase program and discuss three benefits that result from it.
Purchase of packaging such as pallets, pallet collars or stillages means that you can sell your unused or damaged products, thanks to which you gain space in the warehouse and financial resources. You can spend the money you get on the products you need in your supply chain.
How does the packaging repurchase service work?
The quotation itself and the packaging condition verification is free of charge. We can divide it into two stages:
First, we will check the technical condition of your packaging intended for sale then we will present you with a repurchase offer. If the packaging is not suitable for repair, you will receive support in the process of recycling damaged packaging.
The next step may be to combine the purchase of old packaging with the purchase of new products, thanks to which you will reduce the costs of the standard purchase of pallets, extensions, trolleys, etc.
What do you gain thanks to the packaging repurchase service?
# 1. You lower your supply chain costs and save resources for your business
Have you improved your logistics processes and need pallet collars to fit a different plant layout? Does your company need more pallets or you no longer need as many packages as in the past? By selling them to us, you can recover some of your initial investment costs. The sale of packaging creates an additional revenue stream.
Do you consider the ROI for each purchase when you research your business investment options? When assessing how your products are shipped and stored, you can consider the number of pallets, collars and another packaging you need. One of the benefits of a packaging repurchase program is that it helps optimize your supply chain and can lower your overall purchasing costs.
For example, if your company has decided to switch from using wooden pallets to plastic pallets, you can use the funds from the sale of wooden pallets to purchase plastic pallets. Thus, the buyout can be part of the sale transaction.
# 2. You increase your storage space
For companies with limited storage space, storing unused packaging can be very expensive. Perhaps you receive regular shipments of products on pallets and have accumulated a large stock of pallets that are starting to fill your warehouse. Keeping them will not benefit your business, especially since you can use this space for something that will help your business generate more income.
Alternatively, you can increase your storage space by selling unused or unwanted pallets, carts or pallet collars. Selling unnecessary packaging is a simple way to free up space and gain an additional revenue stream.
# 3. You have a positive impact on the environment
Many consumers are more willing to cooperate with companies that focus on sustainable development. As one of the four principles of recycling (reduction, reuse, recycling, recovery), selling used pallets back to the buyer allows others to reuse that pallet without using new forest resources. You can read more about this in the article "Learn the 4 principles of sustainable packaging logistics".
Rotom helps the environment by taking part in a sustainable recycling program for pallets and another packaging. We conduct extensive activities aimed at re-introducing used pallets onto the market. In this way, we care for the natural environment and contribute to reducing deforestation. Therefore, we place great emphasis on the careful repair of packaging to make the best use of our natural resources. Regular maintenance of the packaging extends its service life. As part of the packaging recovery and purchase service, we make sure that your logistic products are always operational and ready to work.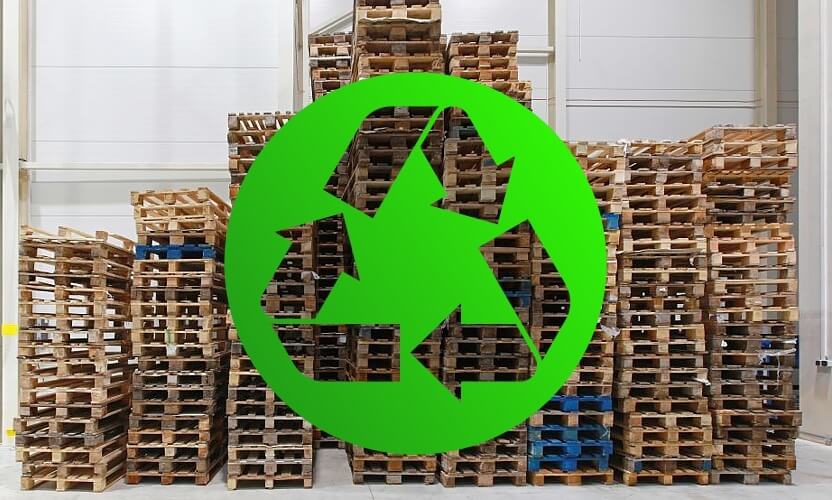 What packaging can we buyback?
We buy wooden pallets in the most typical dimensions, i.e. 1200 × 800 mm and 1200 × 1000 mm and Euro EPAL pallets. Thanks to the EPAL certificate for the repair of pallets, we take care to maintain high standards of production and repair of wooden pallets.
Most often, we buy pallets in standard dimensions of 1200 × 800 mm and 1200 × 1000 mm. These pallets have a solid structure on skids or the so-called nest pallets on feet. We only buy functional pallets due to the inability to repair these packages.
The most popular wooden collars are 1200 × 800 mm and 1200 × 1000 mm. With four or six hinges. Height 200 mm.
Popular metal stillages often used in the automotive and heavy industries. The EPAL certificate for the repair of metal boxes guarantees quality products. We buy efficient and damaged stillages.
The most often purchased containers are 2-wall mesh carts, which can be nested into each other and stored like shopping carts.
Plastic containers and boxes
We buy standard plastic Euronorm containers and KLT containers suitable for the automotive industry. Thanks to the standard dimensions of 400 × 600 mm, they fit perfectly on standard Euro pallets, dolly trolleys or roll containers.

Cooperate with us today in the field of purchasing logistic packaging
Our team strives to find beneficial solutions for all your packaging transportation, purchasing and warehousing needs. We can buy your surplus or unnecessary wooden pallets or roll containers. We are also at your disposal if you would like to buyback used packaging for export or distribution instead of new ones. We are actively striving to increase the stock of used packaging to help you meet your transport needs at an affordable cost.
Therefore, if you want to meet us, we will provide you with a free quote for the purchase of packaging. Then we will help you decide which logistic packaging best suits the needs of your industry.
If your company has large amounts of pallets, extensions, trolleys or other packaging that is no longer needed, please contact us. We will be happy to assess their value and deal with transport.