The Covid-19 pandemic caused a crisis that resulted in a situation when the prices of wood have risen to the highest level in two years. From the beginning of January to the end of August 2020 the price of wood contracts has increased by 158%! It is not difficult to imagine that this affected the transport prices of products in many industries, eventually affecting the end consumer.
Therefore, concerning a potential economic slowdown, many industries are forecasting a reduction in demand for many goods, including wood (you can read more about this in the article 'Increasing Wood Prices on the European Market')
What should be done, however, when it is wooden pallets that we need? A wooden pallet is still the primary delivery medium that links manufacturers, distributors and retailers in many industries. Given the current economic situation and the fact that we live in a world with limited resources, wood is one of the raw materials that must be disposed of wisely.
It turns out that after the work is done for one company, the wooden pallet can be used again by another. Once the pallets are damaged, they can be repaired and reused. If they are no longer useful, they can be sold or recycled. The longer the wooden pallets remain in use, the better for the environment and for the company's wallet!
Used, repaired and regenerated are several terms that you can hear for pallets that have been repaired or built partly from used pallet material for re-use. They are a great choice for new wooden pallets and can still effectively transport goods of different shapes and sizes. There are many other reasons for repairing and reusing wooden pallets, let's consider some of them.
Favourable price of used pallets
New wooden pallets mean a significant expense for the company in comparison with used pallets. The cost of the continuous purchase of new pallets can quickly add up. As a result, the more new wooden pallets you have to buy, the more expensive it can become for your company.
Reducing the cost of pallets can help achieve huge overall savings in the transport chain. We offer fully functional and inexpensive load carriers at really low costs. For warehouses or companies that are considering reducing their inventory costs, this is an effective option.
Well maintained pallets
Used wooden pallets do not differ in quality at all from new pallets because they are strong and have a high dynamic load capacity, so they are suitable for transporting heavy loads. For example, on a used EPAL pallet with dimensions of 1200x800mm, you can transport goods weighing 1500kg, while statically it has a load capacity of up to 4000kg. The strong and robust construction of wooden pallets means that they are less susceptible to damage, which helps reduce replacement costs and ensures a smooth supply chain.
The wooden pallet goes through the process of repair and full maintenance, so it is absolutely in the same technical condition as a new pallet. We have a licence to repair EPAL pallets according to the organisation's standards. We completely renovate used wooden pallets in our facilities throughout Europe. If a new pallet is damaged during operation, it is maintained for re-use. Thanks to the reconditioning of your pallets you do not have to give up on quality, because your pallets will still be 100% functional.
Quick availability
As a pallet manufacturer, we have a huge stock of used pallets, so you can easily buy the right pallets to meet your supply chain requirements. If you need support in choosing the right model of used pallet to replace new pallets, please contact us, we will be happy to advise you.
Sourcing pallets in local warehouses can be tedious and uncertain because you do not know what condition the pallets are in, whether they have any structural damage, harmful chemicals, poorly done repairs. However, when you buy used pallets from Rotom as a manufacturer, you do not have to worry about buying more used pallets. You know where your pallets come from, how they are made and if they are safe to use. You can check if they have the necessary ISPM15 certificate which proves that the pallet has undergone the heat treatment process. In the long run this can ultimately save a lot of money.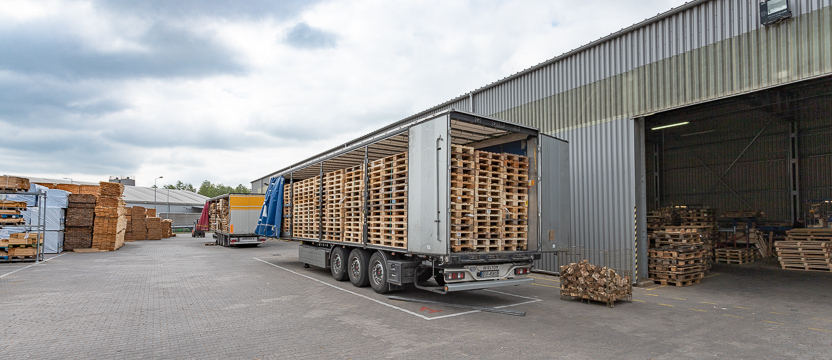 If you have the peak of seasonal orders in your industry and need extra pallets, no problem. You can rent wooden pallets for a certain period of time and after that we will collect them from you.
Positive environmental impact
As a natural product, wooden pallets can be repaired many times, until this repair is unprofitable. In this case, the pallets can be recycled. If a wooden pallet is damaged, it is better to maintain and reuse it instead of throwing it away.
Rotom has been using used and repaired wooden pallets for many years in order to be more environmentally friendly and develop in a sustainable way. You can contribute to a greener approach by buying wooden pallets from a company that actively works on the reuse of pallets by performing regular repair and maintenance.
Pallets can be re-sold
If your packaging requirements change or if your customer or partner requests a change of packaging (pallets), we will be happy to buy unnecessary pallets from you. The revenue from the sale of these pallets will reduce your investment in new packaging.
Purchase of the used pallets that meet all transport requirements is a great option not only for companies with smaller budgets, but also for all those who simply want to save money.The used option can represent around 60% of the cost of new pallets. You can buy used pallets at a good price and high quality.
Purchase directly from the pallet manufacturer.
By purchasing large quantities of wooden pallets directly from the manufacturer you get many benefits that accompany your purchase. Although buying wooden pallets from other sources may seem like a cheap and easy solution at first, it may cost you time and money due to the problems with using these packages.
It is always best left to professionals who do their best to breathe new life into used pallets by repairing and maintaining them. Rotom specialists know the inventory of our pallets and can help you make decisions about repairing, recycling or buying new or used pallets.