The warehouse space market is booming, according to the latest industry reports. Colliers International Agency calculates that in the first three quarters of 2020, the value of the warehouse market in Central and Eastern Europe amounted to EUR 1.9 billion and this year may break a new record.
This is due to the growing importance of the e-commerce industry. E-commerce has been driving the warehousing market for a long time - the Covid-19 pandemic has only accelerated this growth. Manufacturing companies across a range of industries are also active, with many contracts renewed.
The current situation and changing supply chains have resulted in an influx of capital from Western Europe, Singapore, South Korea and locally from the Czech Republic and Hungary.
The stock of industrial and warehouse space has increased heavily over the year! This trend is likely to continue as expectations for the emergence of new distribution centres in Europe in 2021 are very positive. The favourite countries for creating new large distribution centres are Germany, the Netherlands and Poland.
Efficient warehouse operations require solid planning
For a new warehouse to perform at its best, it must be well organised and optimised in terms of efficiency. What does this involve? Well, it's not just about finding and delivering the right product in the shortest possible time, it's about creating the most productive process while saving time and money.
Whether you have a large or small warehouse, making simple changes can significantly improve your business. Let's take a look at some of the factors that affect smooth warehouse operations.
Make the most of your available space
If you're renting warehouse space that's empty and you want to get your business up and running as soon as possible, you don't have to incur the expense of a new racking structure right away. Instead of an aggravating initial investment, take advantage of renting Mobilrack mobile racks that instantly expand your warehouse space. These are dedicated racks for temporary storage and thanks to their flexible design, they can be set up as you wish and you can immediately move the goods on the pallet.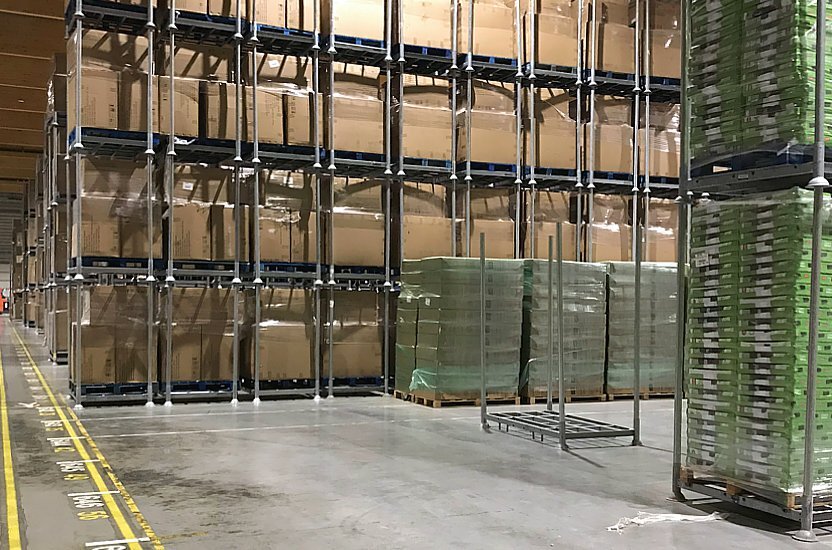 Storage racks that can be folded away after heavy use save the resources associated with renting more storage space than necessary. Many distribution centres and warehouses use single or double pallet racks. Because they are foldable, they save space in your warehouse when you have fewer goods and don't need them at the time.
Racking functionality is the first thing to consider when planning your space.
#1 High-rotation storage
This type of storage, as its name suggests, is designed for warehouses for products with a high turnover of goods, particularly those using the FIFO method. This is an abbreviation for "First-In, First-Out". It is a method used to manage assets and valuations. According to the FIFO definition, products that are manufactured or purchased first are assumed to be sold, consumed or disposed of first. This means that products with a high turnover are close to the packing area, at the most accessible height, and those with a low turnover are further down the aisles.
The goods are stored according to their weight: the heavier they are, the lower they are placed on the shelves or racks. For ergonomic reasons, when picking manually, remember to limit the height of the racks to a maximum of 2 metres.
When it comes to racking, choose pallet racking, which allows you to optimise space, for larger warehouses. With these racks, you can simultaneously store pallets at height and products for picking at the operator level.
#2 Pallet storage and fitted pallet collars
Every warehouse needs durable pallets, but there are many options to choose from. The size, weight and load capacity of a pallet varies depending on the materials used.
Plastic pallets are strong, robust and have excellent load-bearing capacity. They are uniform in size, hygienic and reusable, keeping shipping costs low.
wooden pallets are the most popular choice. They are readily available and can be sold and repaired. However, their lifespan is much shorter than plastic pallets because they lose their structural integrity after a period of heavy use.
Therefore, when thinking about choosing the right type of pallets, you need to think about the type of tasks they are meant to perform. For example, if your warehouse is automated, plastic pallets are best due to their standardised dimensions and ease of handling. On the other hand, if the pallet is primarily used for storing goods, it is better to choose a pallet with a high static load capacity and sufficient load bearing capacity in the rack.
The right pallet collars will protect your goods
The use of suitable pallet extensions keeps goods organised and makes storage easier. Together with a matching pallet, it creates a very sturdy box with easy access to the products. This is important when storing goods with high seasonality. This storage system is more convenient and flexible than bulk storage. The use of pallet collars is also environmentally friendly as disposable packaging is eliminated.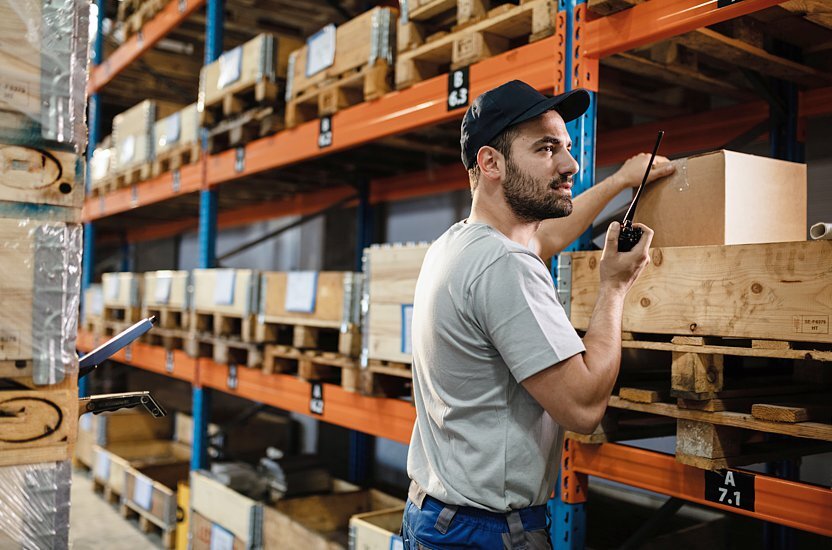 If your goods are of a non-standard size, it is worth using a packaging design service. For example, pallets designed exactly for the product and type of storage not only save costs and increase the safety of the load, but also contribute to the production of less waste, such as cardboard boxes, tape and foil.
Keep safety in mind when storing goods
To ensure the safety of your employees, it is important to prevent risks. What steps should be taken? General health and safety regulations state that when storing materials, the following should be done:
Specify for each type of material the place, manner and permissible height of storage;
Make sure that the weight of the stored load does not exceed the permissible load for the storage equipment (pallets, racks, platforms, etc.
Make sure that the weight of the stored load, including the weight of the equipment used for its storage and transport, does not exceed the permissible load on the floors and ceilings on which the storage takes place.
Optimising sorting and picking
It is a good idea to prepare a suitable area for picking deliveries and receiving loads, especially those with a high turnover. Concerning safety issues, it is necessary to prepare passageways that are adapted to the transport trolleys used in the warehouse. The width of the aisles should be a compromise between the maximum use of the warehouse space and the comfort of use.
In order to optimise picking from the racking level, it is necessary to equip yourself with:
Workshop bins for the finest products;
Plastic containers with lid
Various types of mesh carts or typical picking carts, used in e-commerce industry
If you have enough space in your warehouse it is worth moving less frequently used products to further areas of the warehouse or changing your picking strategy. By reducing the distance employees travel to complete their tasks, you can increase productivity without increasing labour costs
How to secure goods against theft in transit
To prevent goods from falling into the wrong hands when transporting products, it is worth using anti-theft mesh carts and containers with lid, with the possibility of sealing. Anti-theft roll containers are great for transporting valuable goods as each one is sealed with metal mesh on all sides, including the top. The use of a special seal in containers with a lid makes access to the contents difficult for unauthorised people, breaking the seal is equivalent to an attempt to steal the product.

Stock rotation? Rent packaging to suit your current needs
If you need more shelving, pallets, containers or other media in your warehouse to hold your goods for a specific period, it's worth taking advantage of packaging rental. It's a flexible solution, ideal for today's uncertain supply chains. We offer short and long-term rentals, tailored to your needs. Certainly this solution makes stock rotation and warehouse management easier.
We have only touched on a few issues related to the role of proper packaging preparation for warehouse operations. If you are interested in this topic, you can read more: