According to current figures, 95% of purchases worldwide will be made online by 2040; the Covid-19 pandemic is expected to spark unprecedented increases in online sales until countries are free of the pandemic limitations.
According to current figures, 95% of purchases worldwide will be made online by 2040; the Covid-19 pandemic is expected to spark unprecedented increases in online sales until countries are free of the pandemic limitations.
Consumer behaviour around the world is changing due to the increasing digitisation. Whether e-commerce retailers are new start-ups or giant online stores, they must compete on more than just price. The speed of delivery plays an increasingly important role in customer satisfaction.
In order to improve logistics processes, companies are increasing warehouse space and optimizing inventory. A recent report by international consultancy Savills indicates that between 2021 and 2025, courier companies in Europe will need an additional 8.6 million square metres of warehouse space to keep pace with the growing demand in the e-commerce sector. Therefore, e-commerce requires intelligent and reliable load carriers for efficient picking, handling and distribution.
Planning a smooth process, from people to goods
If you are responsible for logistics processes, you know how essential it is to periodically review your internal logistics processes for gaps and opportunities for optimisation. The process includes sorting, picking, packing, and shipping goods.
According to the product range and the needs of customers, order picking can be done either semi-automatically or manually. Combining these two systems is also possible, which can be used in conjunction with parallel order picking systems. No matter what systems you use, we will help you quickly prepare your goods from stock. This is made possible by different types of picking trolleys working at every stage of preparing products for shipment.
Collection area
When goods are received, they need to be checked immediately and then promptly booked in, whether they are scheduled orders or unexpected returns. It is a good idea to prepare a mobile workstation directly at the unloading point to avoid unnecessary long distances.
The goods often need to be unpacked before further transportation. These roll containers are ideal for disposal or for storing small goods, such as cardboard boxes and film, since they are easily accessible and have a high capacity. For example, the 4 sided roll container can be used as a waste container. It is available in a height of 1620mm with two folding flaps at the front and a set of wheels with brake. It is ideal for internal transport and supply chain operations.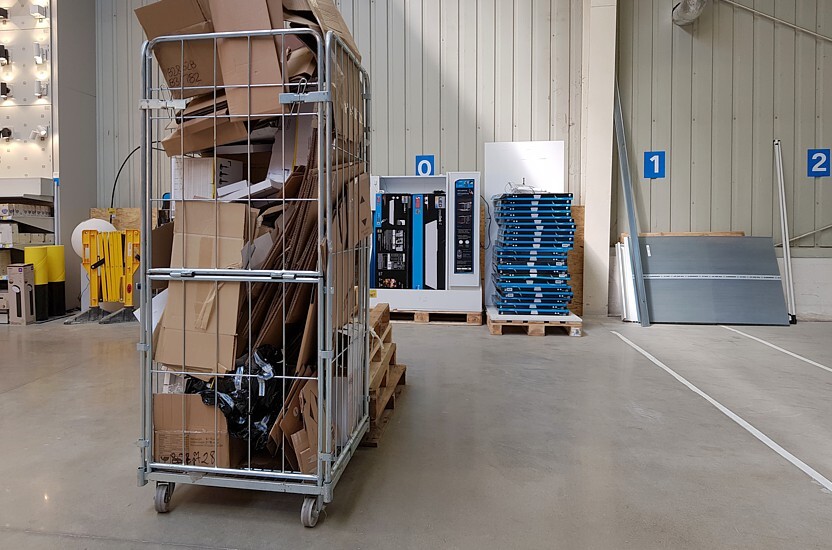 The sturdy transport trolleys with metal shelves and nesting trolleys with resilient plastic or metal platforms are also notable. They are available in many variants and sizes. They are easy to drive and the option of nesting one into the other saves space.
The picking area should not overly delay goods, rather transport them quickly to the warehouse for picking, which will reduce the size of the picking area. We have a wide range of roll containers and transport trolleys of various sizes to help with these tasks.
Order picking warehouse
The static picking system covers a part of the warehouse where there is direct access to all items. It is also suitable for bulk goods, as the amount of storage space can vary due to the size of the goods.
Order picking is simple and easy to perform with relatively low investment costs. In many warehouses, pickers transport orders using special picking trolleys Thanks to an optimised route, they can handle several orders simultaneously. We offer a wide range of picking trolleys with numerous accessories. The special design of the trolleys allows web orders to be picked in the backroom, showroom or warehouse. This form of picking makes processing and packing customer orders easier.
Particularly noteworthy is the ergonomics of the euronorm bin picking trolley. This solution is tailored to intralogistics. It is designed where multiple order picking from different locations in the warehouse is required. This picking trolley is made of high-strength steel and can hold 8 plastic containers. It is also equipped with a bag hanger, scanner basket and storage basket. This trolley has a modular design and can be customised. It is widely used by companies that need to pick multiple orders from different areas of the warehouse,with this product you can systematically and neatly fill orders and sort materials for distribution.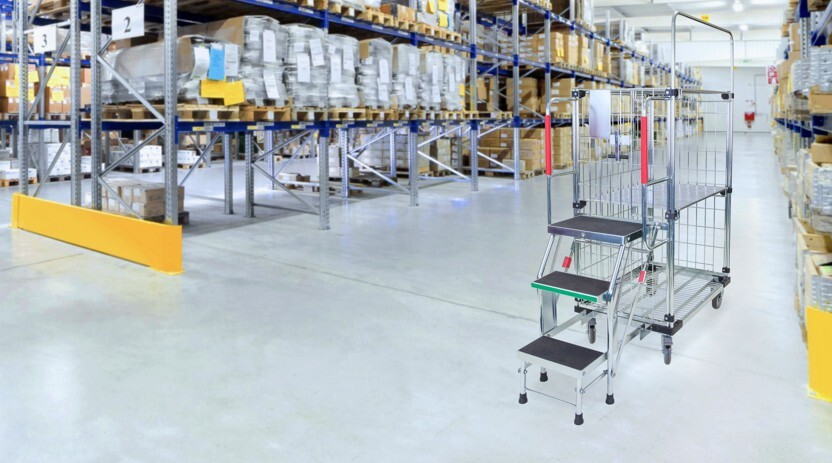 The second type of picking trolley shown in the picture has been touring warehouses worldwide for years, reliably supporting pickers in their work. Thanks to its modular design and numerous extras, it can be easily adapted to the respective logistics concept and product range. Side walls, bottom and shelves are made of robust wire mesh. The shelves can easily be adjusted to meet your needs (in 50mm increments). The surface is galvanised and chrome-plated to a high gloss. Four high-quality castors with abrasion-resistant rubber treads make the trolley move smoothly and manoeuvrable. The load capacity is between 100 and 450kg, depending on the version.
Roll containers are ready for packing in the shipment area
It is always necessary to provide sufficient packaging material for packing stations and packing lines. With our transport roll containers, large and small cartons can be transported quickly to the packing stations and shipping time is reduced./p>
When ordered goods are transported from a central warehouse to a selected branch and then available for customer pickup, loading and unloading of the trucks is usually done quickly using roll containers that enter the loading area fully loaded. This form of transport is also ideal for furniture shops, supermarkets, electronics shops and clothing shops. We have many roll containers in our assortment in various versions. The enclosures can be fully enclosed, vacant, nesting or folding.
Roll containers - many possibilities:
Construction that is completely enclosed and anti-intrusion is available.
With nesting possibility
fold when empty - can be slid into one another to save storage space

Rental and repair of roll containers - services tailored to your needs
If you use mesh roll containers for shipping then you are probably considering the option of purchasing suitable mesh containers. However, if you don't want to incur high purchase costs for the time being, and you're facing a busy peak season, it's worth opting for repair and maintenance of the trolleys, so that the roll containers for hire are tested and ergonomic.
If you would like to learn more about roll containers for e-commerce industry, read the articles below or consult with our experienced specialists. They will prepare an offer typically for your needs and clarify any doubts.
Mesh containers - tips, advice and solutions: