One evening in 1937, Sylvan N. Goldman, owner of the Humpty Dumpty supermarket chain in Oklahoma City, wondered how to improve sales at his store so that customers would buy more merchandise than they could keep in a manual basket. It was then that he noticed two folding chairs in the room and had the idea of constructing a shopping cart. With the help of an employee, Fred Young, Goldman developed a shopping trolley prototype that has become standard in every store over time.
With the development of logistics in the 1970s, there were more and more improvements, also in terms of making the work of warehouse workers easier and faster for picking of goods. The emergence of mesh carts on wheels significantly simplified the movement of goods in the warehouse. Currently, mesh roll containers are an indispensable carrier of loads in many industries, from facilities such as hospitals, laundries or supermarkets, to retail chains that need to transport goods from warehouses or distribution centers to stores
Today, robust roll containers are true masters of transport: they are so flexible that they adapt to the transported assortment and transport the products safely and smoothly to their destination. Interestingly, these trolleys are an unusual logistic tool because on one trolley the goods are transported from the distribution point to the store shelf. It is worth getting to know the advantages of various models of roll containers, so that you can configure them to suit your needs.
Roll containers designed to suit their role
When choosing the right roll container, it is important that it fits the existing supply chain. Perhaps you most often choose mesh carts, which are a continuation of the previous choice of an appropriate logistics tool. However, if they do not fully fulfill their function or you see the possibility of improving transport, consider choosing the right design for your application area.
Wire mesh carts can be folded or recessed. Each option has its own advantages. Folding roll containers are those whose base (usually plastic) can be folded longitudinally. Such a roll container saves a lot of space during transport and storage. It is an ideal solution for couriers, shipping companies or companies that require additional roll containers during periods of increased traffic. However, they do not want roller containers to take up too much space off-season, when they are not used. Then you can decide to rent collapsible roll containers.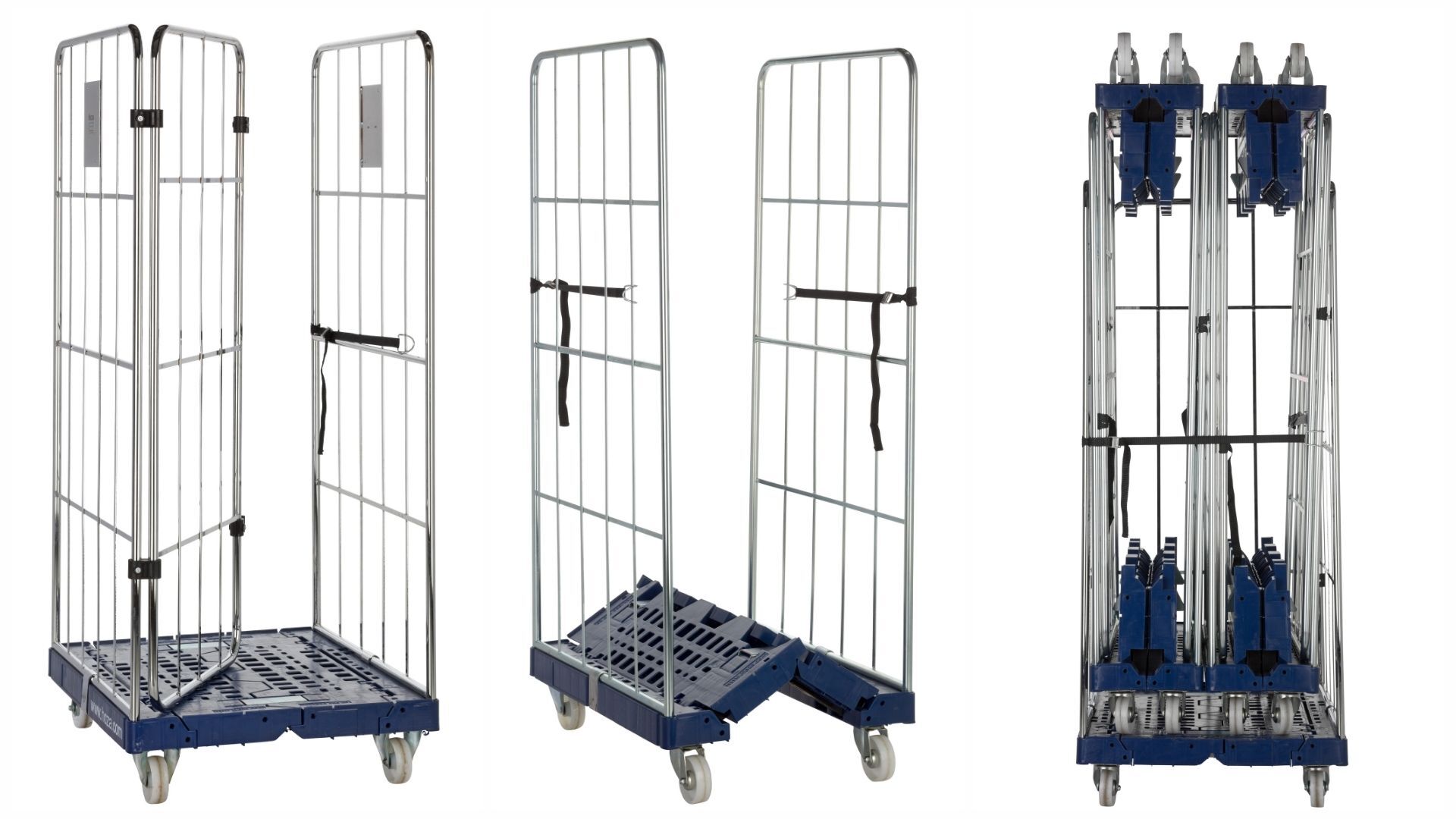 There is also a large group of nestable roll containers. The A-shaped trolley floor structure creates a unique folding suspension system with a spring-loaded lifting platform. a very popular solution because on the way back the containers can return to the base in large amounts, which significantly reduces the cost of transport.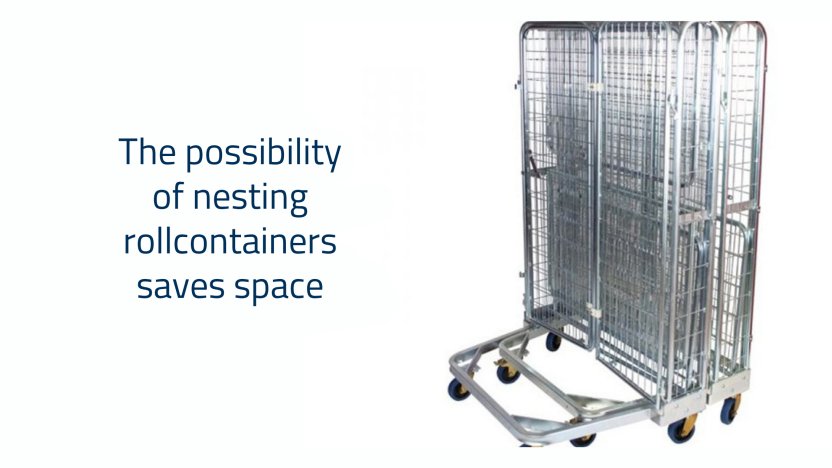 The number of sides on the mesh container also matters
The number of sides of the trolley depends strictly on its use. It is closely dependent on what it is supposed to transport and to what extent the product is to be protected. For example, in order to transport bulky items, a 2-sided roll containers with only a base, wheels and two fixed walls is used quite often. Strapping straps can be used to secure the goods. However, in order to collect small items, a 3-sided or 4-sided roll container with a metal shelf is usually ordered to divide the internal volume of the container, which not only improves the safety of work, but also protects the collected items in the lower part of the container from the weight of the stacked items.
Containers with more metal mesh on the container means you do not need to use large amounts of stretch film as before, which has a positive effect on saving your costs and protecting the environment by reducing the amount of unnecessary packaging.
In turn, security roll containers are the so-called anti-burglary protect the goods against theft because all sides the container, including the upper surface, are closed with a net with a padlock or seal closure. This allows for safe transport of valuable products without the risk of damage or burglary.
Easy picking of goods in the warehouse
Roll containers, commonly known as warehouse trolleys, are perfect for supermarkets and distribution centers and facilitating confectioning. They are standard equipment of every distribution center. For example, a metal picking trolley with dimensions of 1143x628x1805mm is easy to control and supports the staff in picking goods, reducing the number of errors to a minimum. Other types of product order-picking trolleys are those that are specially adapted to euro plastic containers or 3-sided roll containers with shelves, which increase the convenience of picking because on one side there is a push handle and on the other hand, easy access to the contents of the trolley.
Unique mesh design feature of laundry roll containers
A separate category of roll containers are trolleys used in laundries and hotels for storing bed linen. The mesh spaces are larger, the metal is galvanized to protect the structure from rusting because laundries are a humid environment. The front of the trolley has a folding gate that opens halfway. The model of the laundry roll container with dimensions of 990x665x1660mm is additionally equipped with a plastic lining, which protects the goods from tearing from the inside of the trolley.
Isothermal container - i.e. roll container for special tasks
Refrigerated containers are a special group of roll containers, which are designed to keep products at a low temperature during transport. It is extremely important in the food industry that the entire supply chain runs smoothly, without disruptions and loss of product quality. We offer roll containers of various capacities, but all of them have the ATP certificate, i.e. the mark of the European body responsible for the international transport of perishable food. In addition, the isothermal containers meet food safety requirements and is HACCP certified.
The distinguishing feature of the isothermal roll container is the fact that they have EPDM (with a rubber membrane) casing, which means that each container is made of one piece of rotomoulded polyethylene, thanks to which it is easy to clean and does not lose its thermal properties. What's more, this type of housing provides the ability to work in a wide temperature range and has resistance to many chemicals, including alkalis, acids and salts, which ensures longer operation of the container. The container also has four ergonomic handles that greatly facilitate container handling and transport.

Choose wheels suited to the place and type of ground
Each roll container is equipped with four wheels, two of which are swivel and two are fixed, which makes it easy to manoeuvre. An additional brake allows you to keep the trolley in one place while unloading the goods, e.g. in a store or warehouse. The matter of selecting a wheel set is individual and depends on the application of the roll container at the site. There are a few important points to consider when talking about wheels that are fitted to roll containers.
Load capacity - what loads is this wheel suitable for?
The 100 and 125mm diameter wheels are designed for very wide applications up to a load capacity of 250kg. As standard, the wheels of this series are equipped with plain and needle bearings. When we require wheels to carry large lifting capacities, it is worth choosing wheels with a capacity of up to 600kg, e.g. roll container wheels made of polyurethane with a diameter of 125mm. As standard, these sets are supplied with needle roller bearings or precision ball bearings 100 and 125mm.
There are also special industrial kits intended for the most demanding applications. These high-quality castors are impact and overload resistant and have a service life of 30 times longer than standard castors. They can be pressure washed as all bearings are completely sealed. For this reason, they are suitable for use in extreme conditions, in the meat, chemical, pharmaceutical and many other industries.
Application - where the roll container works
It is also necessary to determine what surface it will work on, the more uneven the surface, the larger the diameter of the wheels should be. Another issue is the choice of material the wheels are made of.
For example, castors working in cold stores have to withstand large temperature differences, so the most common are polyurethane and polypropylene wheels. On the other hand, the wheels that will be adapted to the trolleys used in hospitals and hotels must be quiet, i.e. have a tread made of thermoplastic rubber, so as not to disturb with noise.
A wide range of roll containers
It is impossible in this article to discuss all types of mesh containers and their applications. Therefore, we encourage you to browse the Rotom offer for roll containers and depending on your needs and requirements, you will surely find one that will fulfill its function. From special mesh carts working in supermarkets to isothermal containers, there is a wide range of products with different characteristics, capacities and weights. Think about how you can further improve your supply chain and ensure the comfort of your employees' work. If you have questions about the type of mesh trolley you need, non-standard dimensions or larger quantities, send an inquiry and Rotom specialists will provide professional assistance free of charge.