"We should get used to the fact that change and uncertainty will accompany us to a much greater extent than before. The issue of anti-fragility in supply chains therefore becomes more important. It is necessary to act safely even at the cost of greater logistics expenditure, as inventory and goods on the shelf become more important."
This statement by Professor Halina Brdulak (Professor at the Warsaw School of Economics (SGH) from the Department of International Management) comes from the Impact'21 conference on exploiting economic opportunities created by the pandemic. The emphasis on skilful logistics and supply chain analysis shows the important role of skilful management of financial resources. This is particularly relevant at this time of logistical disruption, rising inflation and record increases in commodity prices.
As such, it is important to look for solutions to continue to grow at a time when, as an entrepreneur, you are facing a challenging and unpredictable economic climate. Every business has its own challenges, which is why proper packaging disposition and proper logistics management can not only help you continue your business, but also help you save money. Let's consider how packaging rental can help in situations that require quick action.
When might you need to rent packaging?
Increased storage space
If you are expanding your storage space or moving to a larger facility, it is also necessary to store your manufactured goods properly. Where to store it? Wondering how to reduce business costs? When there is no need to purchase goods, you can reduce the costs of your business by taking advantage of the opportunity to rent mobile storage racking, which immediately increase the storage space. These are dedicated racks for temporary storage, and thanks to their flexible design, you can position them as you wish and move the goods on a pallet straight away. In addition to the racks, you can benefit from the rental of many other necessary packaging such as pallets, pallet extensions, box pallets, etc.
Seasonality of orders
During the so-called "high season" before Christmas or the busy spring and summer season, you need more packaging than usual. You don't have to buy them, you can rent them. What does this give you? You send us an order for a specific amount of packaging that you need at a given time and we bring it to you at an agreed time and place. You then don't have to commit any additional funds, and you simply return them after the peak period. However, if you need them for a longer period of time, you can easily extend the rental period. The longer you hire the packaging, the cheaper the packaging cost per day. What's more, you don't have to worry about the quality of the packaging, as it's always checked beforehand and delivered in good condition.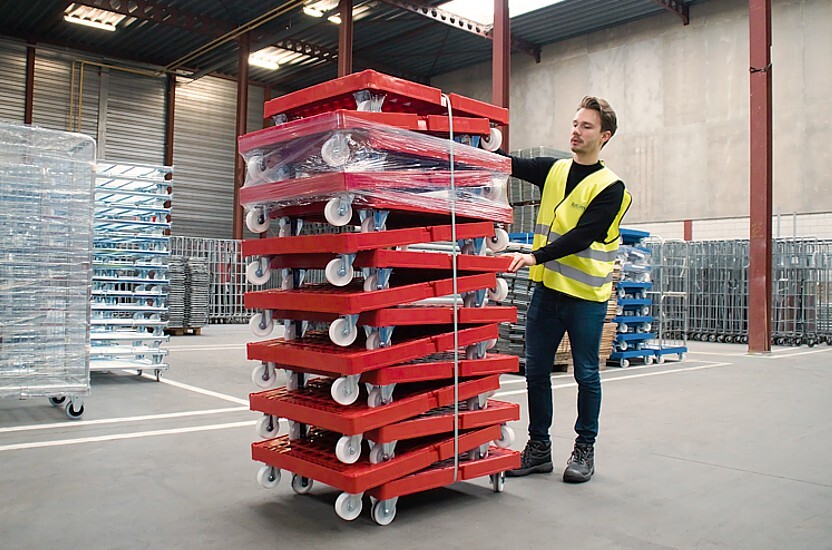 Long waiting time for pre-ordered packages
Have you ordered packaging and are already waiting for 2 or 3 months for it? Production has to continue and you need storage media "now", what can you do at such a time to best manage your available funds and resources?
No company wants to be grounded by slow processes that affect productivity. Minimising costs and making the most of the scale of production is key here. Currently, due to supply disruptions, waiting times for some products are much longer. If you have a period of intensive production and you lack the necessary amount of media, you can use a rental service. This will give you a faster, stronger and more effective response to disruptions. This reduces operational downtime and helps you resume operations in the shortest possible time.
The production downtime is coming up, so it's time for machine maintenance
The holidays are coming up, a time for repairs, maintenance of machines. If you need to carry out repairs and maintenance on your machines during this period, you need to produce more goods beforehand so you can stop production. In order to have a place to store your goods temporarily, the ideal solution is to rent packaging for a limited period of time.
Why is it worth it? Buying new packaging can often cost your company more than the products are worth. Considering the additional cost of storage, it doesn't seem worth it. By forgoing the purchase of new packaging for short-term jobs, but only renting as much as you need at a time, you save time and money.
Many companies are taking advantage of solutions like this. For example, one of our white goods manufacturing partners planned to maintain its production line during the summer months. As a result, it increased production earlier and hired Gitterboxes to store components for 2-3 months.
Rotom as an experienced partner understands your requirements. Purchasing specific containers may not always be feasible. That's why we offer a variety of products that can be rented depending on your needs. Renting containers is a cost-effective option.

Benefits of packaging rental
The ability to rent packaging means getting durable, reliable carriers at a lower cost. If you choose to rent trailers or storage space as a normal logistics practice for your business, why not rent packaging as well? Here are some of the key benefits.
1. Rental saves money
If you rent packaging, you can save on both maintenance and repair costs. We manufacture and repair our packaging in warehouses across Europe ensuring quality and durability.
2. Low monthly costs
Deciding to rent packaging, you do not have to wait long. You immediately receive logistics media that you can use right away. You can spread the cost of the rental and pay in monthly instalments. This can help you make significant savings.
3. You don't worry about lack of storage space
If you buy disposable pallets after use you usually have to sell them or find storage space for them. Do you have too many boxes in your warehouse after peak periods? If you rent packaging, you return it to us immediately and you can use the free space in a better way.
4. Time flexibility
As well as payment flexibility, you also gain rental time flexibility. This means that you can choose the period for which you want to rent the packaging you need, depending on your needs and the scope of the work you are doing. You can extend this period at any time.
5. Better financial management
Payment for rent is spread out over months or weeks. This will help you manage your monthly budget and finances efficiently, so you don't have to worry about the huge cost of buying storage containers. What's more, renting packaging does not lock up your business finances, which can be used for other areas of your business.
6. Sustainable and eco-friendly
Packaging rental can help you move towards 'green logistics', the option to reuse materials. Our pallets, extensions, crates, or roll containers for hire are regularly subjected to maintenance and repair in our warehouses, so they work in very good condition for many years.
These are some of the main advantages that make packaging rental a more beneficial option for many than purchasing new carriers. Renting packaging for short-term and long-term projects is a great way to cut costs. With so many benefits, it's easy to see why more and more companies are choosing to rent packaging for both long-term and short-term projects. Nowadays, the cost of many raw materials is soaring, so we offer a comprehensive packaging rental and circulation service tailored to your shipping needs.
Our teams work to minimize disruption to sourcing and managing packaging and maintain regular and transparent communication with our and partners at all times. Interested in discussing your company's needs? Contact us by filling out the form or call and our specialists will surely provide you with professional assistance.
If you are interested in the field of packaging rental read more on the blog:
Źródło:
---