Today, many metal packaging manufacturers are concerned about soaring prices in the steel market. The latest statistics state that the price of sheet metal used for further processing has increased by 70 percent. It assumes that steel prices will remain high in the future as well, due to the European Commission's plan to introduce a tax on imports of steel products in 2023, taking into account their carbon footprint.
Steel in the market is still in short supply. It causes a systematic rise in prices, which affects industries such as white goods and car manufacturers. The restart of steel mills has not been fast enough to meet growing demand, while inventory levels have fallen to historically low levels. In turn, the need to replenish steel stocks in Europe and the U.S. created additional demand that outstripped supply and, as a result, steel prices rose in late 2020. This increase in raw material prices reflects increases in end products such as hardware and metal packaging.
Predictable consequences of steel market disruptions in 2021
The World Steel Association has released its Short Range Outlook (SRO) for 2021 and 2022. Worldsteel forecasts that steel demand will grow by 5.8% this year. Reaching 1,874.0 million tons (Mt), following a 0.2% decline in 2020. In 2022, steel demand will grow by 2.7% to reach 1924.6 Mt. This market situation may last longer due to programs to stimulate and develop the global economy after the pandemic crisis.
The steel industry remains exposed to various risks that could affect demand, prices and margins, including those related to pandemics, such as the wider spread of the virus, slow vaccination and possible new restrictions. Input costs will continue to impact steelmakers' profitability and cash flows. Political and geopolitical changes, such as the amount of government stimulus programs or CO2 reduction policies, could increase pressure on the sector.
Prices and availability of steel, and the metal packaging market
The alarming rise in steel prices is also causing sharp increases in the price of new metal packagings such as metal extensions, mesh containers and gitterbox baskets. The price rises links to market news of leading hinge manufacturers experiencing stock shortages. The result is not only more expensive packaging but also shortages in metal packaging supplies. It also affects the heavy industry, industrial or automotive.
Rent metal packaging during disruptions
Retailers and manufacturers have to cope with seasonal and cyclical disruptions to the supply chains of their products and the packaging they need. A great help in this regard is the possibility of Packaging Rental, which provides greater flexibility of operations by managing the resources of their load carriers accordingly. Renting metal containers, extensions, roll containers, or pallet racking helps offset these fluctuations without the need to pay for long-term storage or the purchase of load carriers.
The Rotom Group is a great "lifeline" that fits into today's strategy for survival in times of disruption. We have warehouses throughout Europe perfectly stocked with a large number of suitable packaging carriers.
Examples of metal packaging for hire include:

The flexibility of the rental service is practical because you get the necessary amount of packaging for transport or storage when you need it most. In addition to the fact that at a given time you can use company funds for other investments, you have liquidity of production all the time, while after the period of use you do not have to store these packages at home.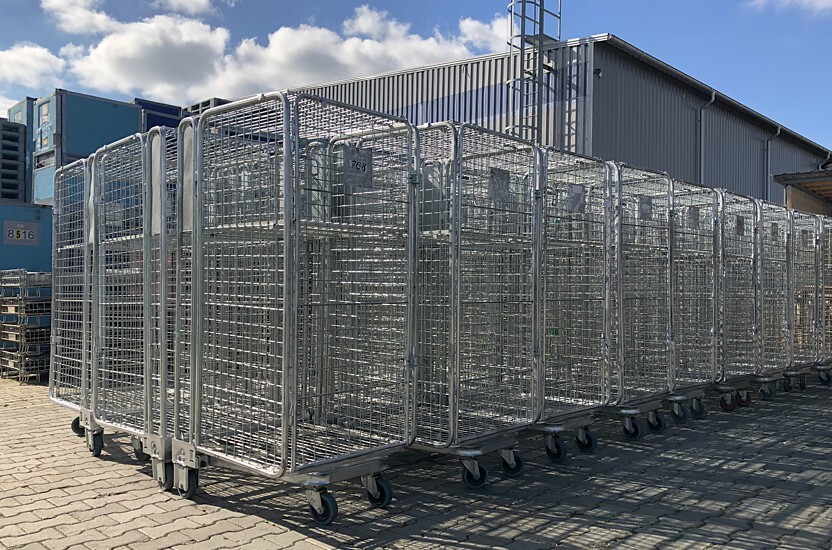 Reuse metal packaging multiple times
In line with the strategy of reducing CO2 emissions and making the best use of the media you have, it is worth using reusable packaging. They work very well in pooling, or packaging circulation. This involves these products being specifically tailored to the specific supply chains in which they work as returnable packaging. This eliminates the need to constantly purchase new disposable packagings such as film or tape. Each metal packaging is regularly inspected and maintained before it is put into further use.
For example, in the automotive industry, Gitterbox metal containers work well. Manufactured goods are loaded into these metal boxes and sent to their destination, then the empty containers are sent back to the same supplier, refilled with products and this cycle is repeated over and over again in a closed-loop. In some cases, it is an open system, where reusable packaging (e.g. metal Gitterboxes or roll containers) is used by many different suppliers who all share a common packaging pool. In other situations, packaging operates in a closed-loop, particularly where returnable packaging is a product designed and manufactured to a unique specification. In either case, as an experienced logistics partner we manage the workflow of these packages to keep your supply chain running smoothly.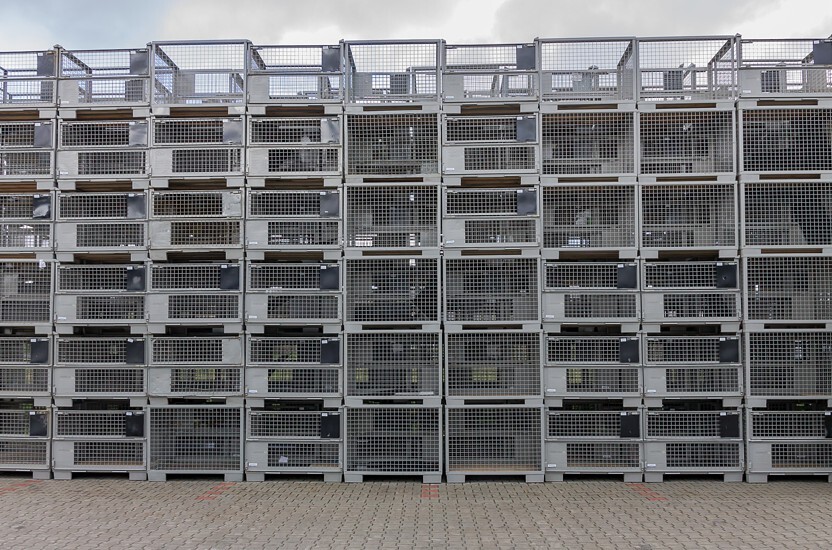 Nowadays, many companies are using returnable packaging cycle management companies and switching to recycled plastics and reusable transport packaging.Rotom is a trusted partner for using sustainable solutions. With services such as rental, buy-back or packaging circulation, the life cycle of metal products is significantly extended, contributing to the wise use of natural resources and increased profits.
Metal containers and other steel packaging still essential in industry
Despite current disruptions and price fluctuations, steel is an economical material for making roll-off containers, boxes and pallet extensions. It is also reusable and can be subjected to repair and maintenance services. Each metal container, roll container or pallet rack used is thoroughly inspected and maintained so that you, the customer, do not feel disappointed with the performance of such a carrier. This way it can serve for many years to come.
That is why it is worth considering reusable packaging or using a rental service, so you can save costs without sacrificing quality. If you have questions about our metal packaging rental service, or need larger quantities of packaging, contact us. Our specialists will select the right solutions for your industry to keep your operation running smoothly and without disruption.
Are you interested in the topic of how the current economic climate is affecting the logistics packaging industry? Read more on the blog: