The food industry is a very demanding branch of the economy. Unlike traditional consumer goods, food and drink products have an expiry date. Moreover, they need to reach consumers in perfect condition as quickly as possible, otherwise they may be thrown away due to spoilage. When this happens, the food producer clearly loses its reputation, not to mention the loss of goods.
Given the fragile nature of such stock, you can't afford to take any risks when it comes to the condition of your products. Therefore, it is important to collect as much data as possible regarding the storage, distribution and shipping processes. Regarding transportation, a slight delay can easily ruin your entire shipment of goods. Improper storage techniques will also destroy your inventory. That is why Rotom specializes in the production and sale of packaging specially adapted to the high hygienic requirements of the food industry, such as hygienic pallets, pallet boxes, compatible storage and transport containers, and cooling containers.
Cooling containers, i.e. deliver the goods intact
Depending on the nature of the products, it may be necessary to keep them at a certain temperature during transport. Even if your goods are not frozen or chilled, room temperature items can easily spoil if there is too much heat or moisture in the air. Refrigerated Isothermal Roll Containers can come to the rescue. Depending on the amount of stored goods, you can choose a suitably large container, even up to 768 liters! This refrigerated container bears the quality mark of the European organisation responsible for the international transport of perishable food. In addition, it meets food safety requirements and is HACCP certified. These properties make the container suitable for transporting food products. The special housing of the container provides the ability to work in a wide temperature range and resistance to many chemicals, including alkalis, acids and salts, which ensures a longer life of the container.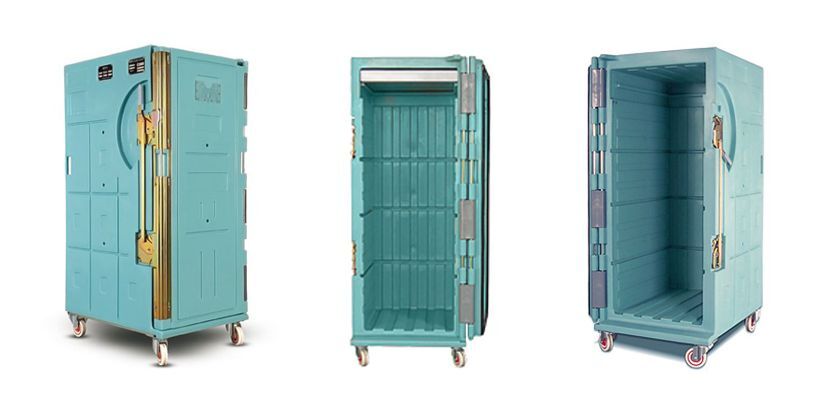 ;
In order to keep the freezing or cooling temperature for as long as possible, it is worth using Isothermal Cooling Element inserts. We offer inserts down to -21 degrees Celsius, which can be used many times, and also allows the food in the container can be safely transported at a constant temperature.
It is worth remembering that opening the container door can easily change the temperature of your products. Therefore, it is worth placing special markings on the container that will remind employees to close the container door whenever possible.
Plastic pallets that meet high hygiene standards
Hygienic pallets are reliable and cost-effective plastic pallets that are recognised as the standard load carrier in the food (especially meat) industry across Europe.
Plastic pallets are also extremely durable, easy to transport with a forklift or pallet truck that can pick up a pallet from all four sides. Moreover, plastic pallets protect not only the goods, but also the people who handle them - they do not have loose nails, broken boards, dust or chips. Due to the way pallets are produced, there is also 100% dimensional accuracy which is a very important factor in automatic systems.
The H1 hygienic pallet with dimensions of 1200x800x160 mm is the most popular pallet in the food industry and has all the required certificates and meets hygiene standards. The maximum dynamic load capacity is 1250kg, while the rack load capacity is 1000kg. This makes the durable pallet successfully used where increased sanitary conditions are required. These pallets are ready for export and the shipment of products outside the EU.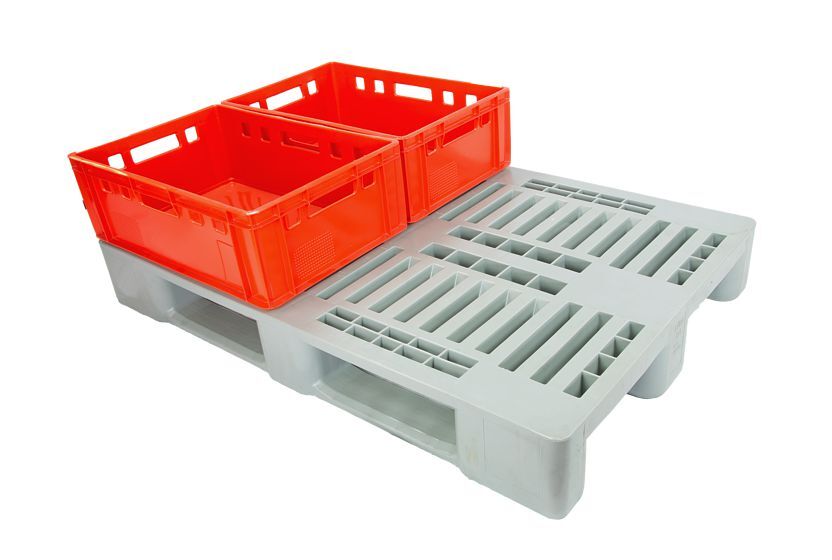 It is a pallet compatible with standardised euro containers, 600x400 half-pallet and E1-E3 plastic containers. A pallet with an open top with rims preventing the storage of Euro containers from moving allows accident-free work. Plastic pallets are fully integrated into our customers' daily supply chain. Their weight and dimensional stability, resistance to moisture and, of course, hygienic appearance make hygienic pallets a reasonable economic alternative to wooden pallets.
In the logistics of the fishing sector, many operations take place in high water and high humidity environments. Our plastic pallets, containers and crates are ideal for these environments as they are waterproof and, unlike traditional wooden pallets, they do not differ in size. , weight or shape after coming into contact with water. Plastic pallets can be washed after use, avoiding unpleasant odors and the presence of bacteria or parasites that could cause accidental contamination.
Plastic containers - full or perforated?
There is nothing more important than the durable plastic containers that transport your products to their destination. The wrong storage container can easily damage food. Some products, such as fresh produce and baked goods, can be damaged. The right container ensures the safety and quality of the products.
In particular, when the meat comes into direct contact with a crate or container, there should be no possibility of contamination.
Logically, the crates in which the meat is transported or stored must also meet high standards and specific requirements. An important example of legislation can be found in Regulation (EU) No 10/2011. It contains rules on the composition of plastic materials that come into contact with food. There is also a list of permitted substances that can be used in production.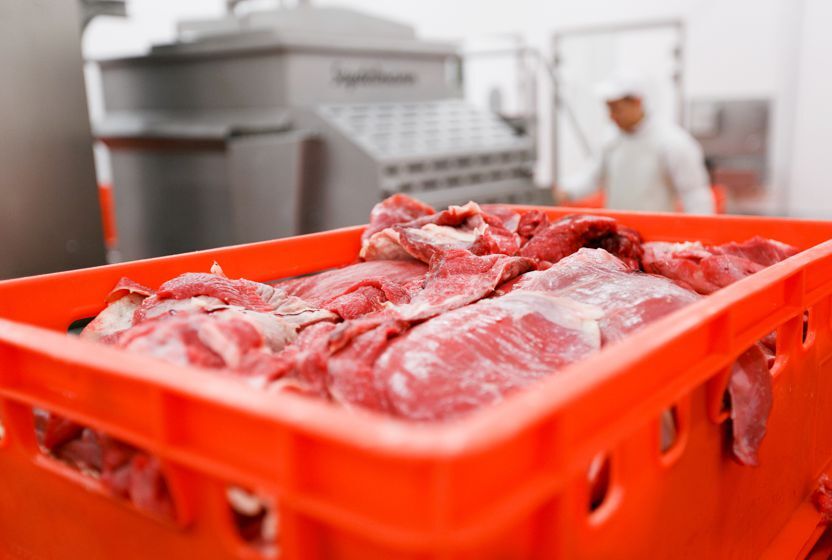 To comply with these regulations, choose the E-series solid plastic containers. They have been specially developed for the meat industry to prevent contamination and efficiently distribute contaminant-sensitive food.
The meat industry is one of the sectors where a plastic pallet, container or crate has set standards, mainly due to the hygienic conditions required by various applicable laws, including the HACCP Directive. In environments where cleaning and hygiene are very strict, they play a key role because they can be washed easily after each use and cannot be infiltrated by liquids or other elements of the production process.
Perforated boxes for vegetables and fruits
Good airflow is extremely important when storing vegetables and fruits. Perforated Euro 600x400mm containers that ensure good ventilation of stored food products will work very well in this case. The perforated base and walls facilitate air circulation between the stored products. The design of the containers allows them to be stacked. Plastic crates of this type are commonly used for transporting and storing fruit and vegetables in shops and warehouses. The containers are resistant to low temperatures, which makes them perfect for such applications. In addition, all products in the Euro Container section are perfectly suited to Euro Pallets, Dollys and Roll Containers. So you can choose the length, width and pattern corresponding to your own requirements to optimise the supply chain.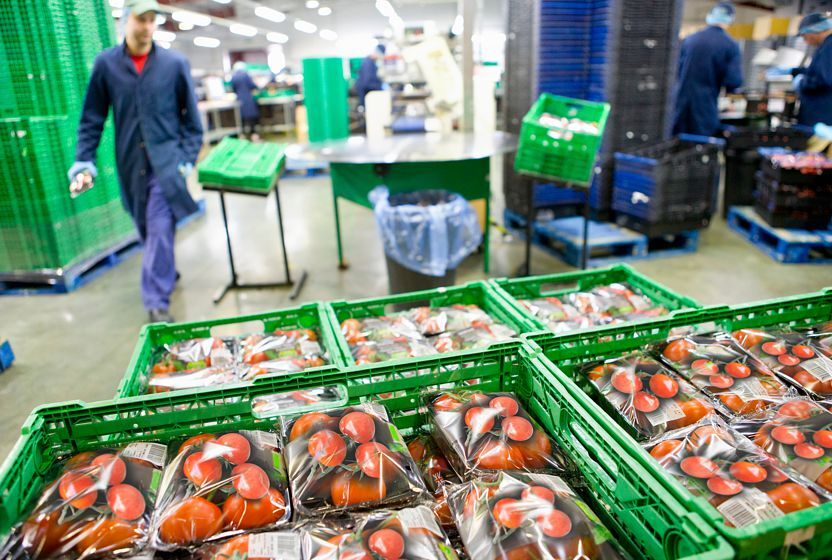 It is also possible to save space in transport when we choose openwork folded plastic containers. Openwork containers are very popular due to their quick and easy folding. This gives you extra space when storing empty boxes. The solid PP material from which the containers are made makes them hygienic, durable and efficient.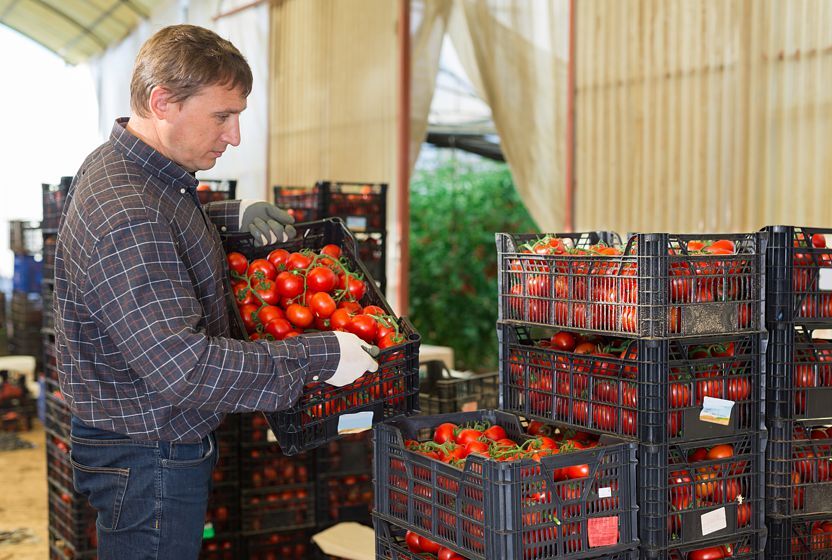 Plastic crates and boxes can hold many products
Each segment of the food processing industry has individual requirements for the right packaging for the end-user. That's why we make sure that the containers and crates are of high quality and withstand harsh environmental conditions. In addition, these containers must be compatible with automatic production lines to increase supply chain efficiency. High standards are met by industrial container for food products, such as pallet boxes, which are completely hygienic and made of durable materials such as HDPE. They are practical and easy to clean and allow you to store all kinds of products, whether fresh, frozen, cooked or at room temperature.
In addition, they are resistant to temperature fluctuations and corrosive chemicals and can withstand heavy loads. For this reason, they fit perfectly the needs of all companies operating in the food industry, including a delicatessen, butcher's shops, fish markets, confectioneries, wine bars and bakeries.
An example of an extremely durable and high-quality plastic pallet box is the 1200x800x800, which is an ideal solution for the storage and transport of loose products, food, vegetables and fruit. We supply pallet containers in various sizes and types. Their design allows stacking - saving space in the warehouse, and the possibility of folding significantly saves costs in return transport.
The vast majority of the horticultural sector uses RTE (reusable transport components) to transport fruit and vegetables from collection sites to the packaging facility. Plastic is, therefore, a material that is widely used in the industry due to its excellent properties for the distribution of fresh produce. At Rotom, you can rent plastic crates or containers in the quantities that you require or during the peak season. After the rental period, these containers can be returned.
3 unique features of the perfect packaging for the food industry:
Hygiene: our plastic pallets, containers or crates are specially adapted to be in contact with food. They can be quickly and thoroughly cleaned, which prevents contamination of the goods with microorganisms.
Environmental protection: Plastic containers are reusable. This reduces the production of waste in the form of cardboard or wooden crates. At the end of their use, they are recycled and thus returned to production again without damaging the environment.
Economics: our solutions contribute to savings (eg collapsible containers or boxes), they are durable and serve customers for many years and are suitable for many applications.
The food industry faces many challenges, but overcoming these obstacles starts with having the right equipment and technology. Invest in such packaging so that you do not have to worry about the condition of your food and fully protect the goods during transport. If you need support in choosing the right product or larger quantities, our specialists will provide you with professional help.