What is the food supply chain like before it reaches our plates? The entire logistical process starts at the farmer, through the packers and shippers, then to the wholesalers or retailers and finally to us, the end consumer.
The logistics of transporting fresh produce are very complex and members of the supply chain need to work together seamlessly so that produce can reach the end consumer in perfect condition. Packaging has to be taken into account, temperature, humidity and other factors to ensure that the product remains fresh and intact. It requires the supplier to work with the shipper to choose the right packaging.
What makes food quality so important?
According to a Deloitte report entitled The Future of Fresh , fresh food sales are an important growth driver for retailers and a priority for shoppers who want to have enough fresh food on hand. Fresh produce sales from January to August 2020 increased by $4.5 billion compared to the same period in 2019.
A supermarket's or convenience store's traffic is largely driven by the availability of fresh food. At 80%, good quality fruit and vegetables are the most important characteristics shoppers look for before selecting a store. Good meat is at 77% and fresh food is at 53%.
To meet consumers' expectations and be competitive in the marketplace, you must adhere to rules of conduct for the production, storage and transport of food as described in the "Food transport requirements" No 852/2004 of the European Parliament and of the Council of 29 April 2040 of the European Parliament and Council No 852/2004 of 29 April 2040. It provides comprehensive information about safe storage and transportation of food products.
Challenges in food transport
Although shipping produce may seem simple in concept, there are many possible complications at this stage, which results in significant losses each year due to damage to produce. There are two main reasons for this: food spoilage and damage to fruit and vegetables that prevent their sale.
How can I keep products from spoiling by maintaining the right temperature and humidity?
It is essential that temperature and humidity are controlled and maintained at the right level to keep produce fresh. Produce should be refrigerated because as the temperature rises, the amount of bacteria increases.
Fruits such as oranges, grapes and cherries, for example, should be stored at a temperature between 0 and 2 degrees Celsius and at a humidity between 95% and 100%. On the other hand, produce such as garlic and onions should be stored at a similar temperature but at 65% to 75% humidity, as high humidity is harmful to them.
As you can see, the parameters for keeping products fresh and safe vary from product to product and are very specific, so optimising shipping conditions is essential. As a result, there must be clear communication and logistical planning between cold storage operators, warehouses and refrigeration equipment at the retail destination.
To keep the temperature of cold products in the cold room low, it is advisable to store fruit and vegetables in special crates, which will provide airflow and keep the products fresh for a longer time.
Cold temperature food transport
To ensure that products are kept at the right temperature throughout the transport process, a good "cold chain" organisation is needed. This means that shipments that require a certain temperature to be maintained have priority in handling, e.g. they are the last to arrive at the aircraft for loading ("last in") and the first to be unloaded ("first out"), after which they are immediately taken to a cold store. The transport of chilled products is perfectly served by refrigerated roll containers. Equipped with appropriate cooling inserts, they maintain temperature down to -21 degrees Celsius, guaranteeing transport of food without quality loss.
Packaging that absorbs impacts
Another common reason for food going to waste before it reaches the consumer is impact damage. Shocks and vibrations that occur during transport can seriously damage a product, and this is a high risk if items are not properly packed and loaded. In fact, if a carrier is overloaded with products to ship, they may load an excessive number of pallets of products into one vehicle to cut costs, and this can cause damage to the goods.
Although supply chains still use the most popular wooden pallets and crates, there is a noticeable trend towards using more practical plastic packaging. Plastic containers are lightweight, durable, waterproof, will not rust or rot and are easy to keep clean. They are now used in farms, greenhouses, orchards, vineyards and fields around the world.

Orchard farms - harvesting containers and crates
During harvesting, fruit and vegetables are first placed in special openwork containers and then placed in crates and transported to the cold store. Perforated containers are popular because of their design - they have a ventilated base and walls, which provides better access to air - making it easier to transport fruit from the field to the cold store. This also prevents the formation of food-hazardous moisture inside the container. Each container has a reinforced base and straight walls, which are designed to hold the fruit baskets securely in place without crushing the delicate fruit. In addition, it is easy to clean and dry. The folding option is especially needed for return transport as it saves space and fuel costs.
Plastic pallets and crates - ideal for transporting food over long distances
Plastic pallets are very popular in the food industry, especially the H1 pallet made of pure HDPE ( high density PE, PE-HD - High Density Polyethylene). The reason for this is that plastic pallets are hygienic, not porous and can function in extreme temperatures. Plastic pallets are more durable than wooden pallets as long as they are operated according to proper operating standards.
The best packaging for shipping is one that will sustain the high quality of the product. Apples, citrus fruits and pears with hard skin can be transported long distances as the skins are thick enough to remain intact. On the other hand, softer fruits such as plums and peaches need to be packed and handled with care. For example, produce such as watermelons are transported in large crates, while tomatoes, onions and cucumbers are shipped in wood or plastic containers. Among the factors hauliers must consider when choosing packaging are the effects of temperature changes.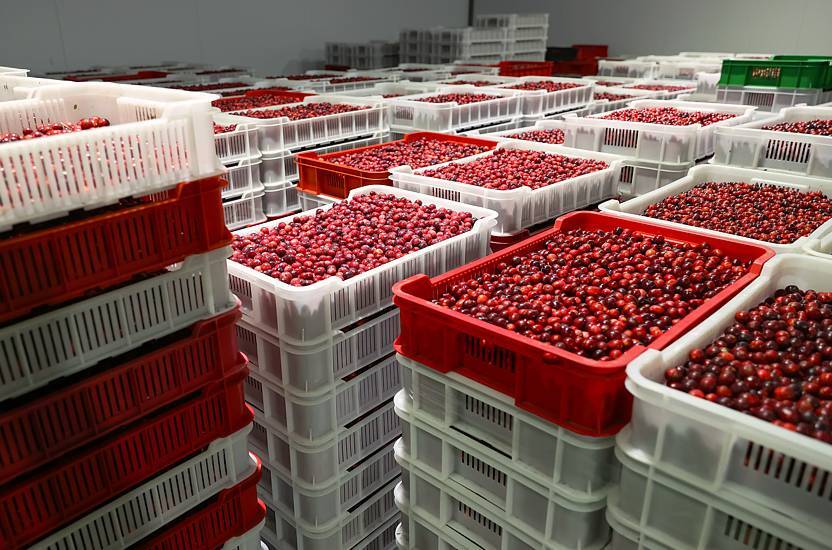 After the produce is picked and packed, it is ready to be loaded and shipped. Carriers need to be aware of what they are transporting because some fruits cannot be transported together. All fruit releases a harmless gas called ethylene after harvesting, and each fruit releases this gas in different quantities. It causes some vegetables, such as tomatoes and peppers, to ripen and spoil more quickly, so they should be kept separate from other produce that releases the gas in large quantities.
Rent packaging for fruit and vegetable transportation
The food industry faces quite a few challenges, but the better packaging technologies are used in the supply chain, the easier it is to overcome certain obstacles. So invest in packaging that fully protects your food during storage and transport. Our specialists are ready to advise you on which packaging solutions are best for your business.
You will not need to buy new packaging every time if the challenge is a particularly busy season or overproduction. You can rent the packaging you need at any given time such as pallets, refrigerated containers, plastic containers, crates and much more.
Please contact us if you need assistance choosing the right packaging solution or larger quantities, and our logistics experts will provide you with expert advice.
Are you interested in the topic of the cold supply chain? Read more on the blog: