Perhaps you are thinking about the best pallet box for your industry. Plastic or wooden ones? Although wooden pallet boxes are undoubtedly popular, it's worth learning more about their plastic counterparts, especially if you care about a product that does not have to be replaced with a new one in a shorter period of time!
#1 - Are plastic pallet boxes useful?
Plastic pallet boxes, or trip boxes, have been designed to make the best use of space and provide universal storage solutions as an alternative to wooden crates. They have many uses and advantages, which is why they are increasingly popular with businesses. Let's look at some of them:
Box pallets are an ideal solution for the storage and transport of loose products, food, vegetables and fruit. Pallet containers are available in various sizes and types. Their design allows stacking - saving space in the warehouse. Foldable plastic crates significantly save on transport costs.
They retain moisture and are weatherproof, which means they are an excellent choice if you are transporting delicate items such as food, liquids or pharmaceuticals.
Plastic pallet boxes are easy to use and can be stacked in a way that saves a lot of space. This allows you to provide a safer work environment for those who use them.
They last much longer than their wooden counterparts, they're strong and resistant to scratches and when stacked in piles they are able to carry up to 600kg without fear of something breaking or the structure of the box pallet failing.
Probably the most important reason why plastic pallet boxes have become so popular is that they are very easy to clean, offering a hygienic environment that other box containers cannot provide. They are made of durable high-density polyethylene and can be easily cleaned with steam for hygienic purposes.
Due to the fact that they are waterproof to moisture, as well as acids and bases, they can be used in more industries
Pallet boxes can also be stored in refrigerators, because plastic is resistant to various weather conditions
#2 - How are pallet boxes made?
Plastic pallet boxes are formed under extreme pressure and in highly polished forms, which ensures their size and durability is 100% preserved. This means that every time you use a plastic palletbox, you know what load it can take and that it is stacked in a precisely designed way. The boxes are made of very durable HDPE material, which ensures their long life.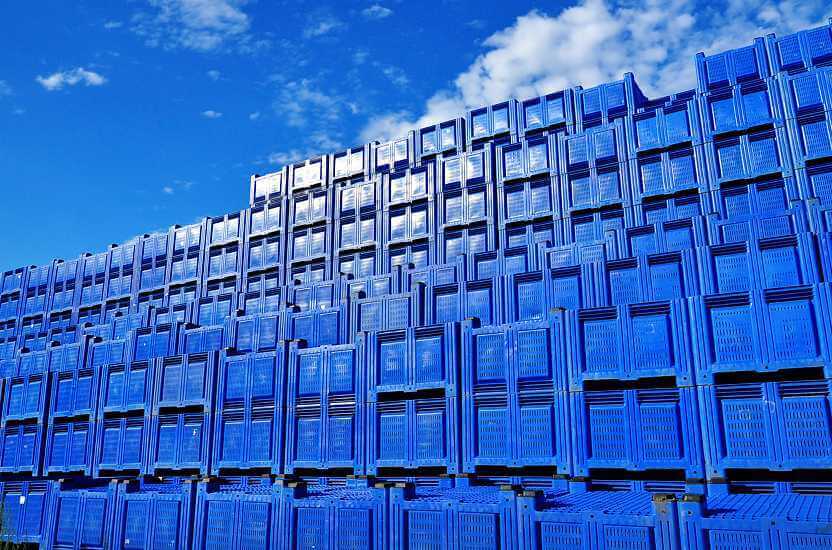 #3 - Why is it worth investing in plastic boxes?
Plastic pallet boxes are cleaner, safer and more economical. They are easier to handle because they do not chip off and do not contain sharp nails in their construction. They can easily be stacked. HDPE plastic is up to ten times more durable than wood, so you save money, which you would have to spend on your next purchase of wooden pallet boxes.
#4 - Can plastic boxes be eco-friendly?
Of course, you may wonder whether buying plastic packaging at a time when plastics are one of our main environmental problems is a good choice. Boxes are made entirely of 100% recycled polypropylene - they do not harm the environment, because they do not require additional tree felling and after use they can be converted into a completely new box or other plastic products.
#5 - What are the dimensions of the box? How many boxes will fit in a truck?
The most popular dimensions of box pallets are 1200x800mm and 1200x1000mm. Depending on your needs, you can choose a folding version with hinged flaps or a solid full version, without the option of folding. In the case of e.g. 1227x1027x965mm box pallets, 208 pieces fit in a standard truck, i.e. 8 pieces on a pallet (assuming 33 places in a standard trailer).
The possibility of stacking pallets allows you to significantly increase and maximize storage space. For example, a large 820-liter container can easily be removed for storage when not in use, which is an ideal option for saving space in warehouses, trade, transport and logistics.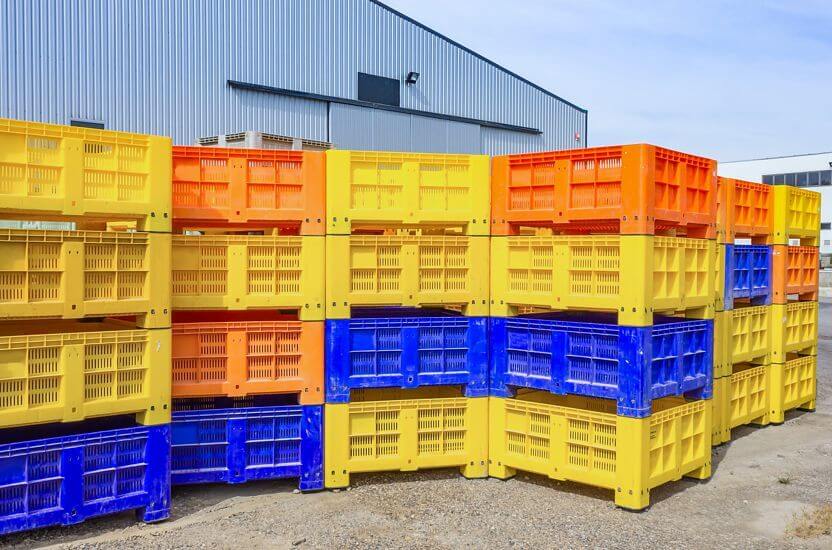 #6 - Is it better to choose solid or folding pallets?
If you have enough storage space, then undoubtedly solid boxes are a cheaper option than their folded counterparts. Solid pallet boxes have closed sidewalls. Although they may have an exposed upper part (without lid), the rest of the pallet box is full. Boxes are made of durable plastic resistant to scratches and cracks. Best suited for transporting heavy goods with a large volume or can be useful as a static container for storage. Full pallet boxes ensure high transport safety in combination with relatively low unladen weight.
Closed pallet boxes are available in various sizes. Some popular sizes include; 800x600x790mm, 1200x1000x790mm and 1200x1000x740mm. At Rotom, you can choose pallet boxes mounted on skids, wheels and feet. Thanks to this, solid pallet boxes are very versatile and can be modified to suit various applications.
However, folding pallet boxes are very useful. They have foldable sides and can be ventilated, although they are more expensive, they have specific advantages. First, because they can be folded so that they take up much less space when empty, which clearly reduces the cost of return transport. Secondly, because the sides can be fully or partially folded, this provides easier access to the contents of the pallet box. Thanks to this, the foldable pallet container is easy to use. Just like full box pallets, they are made of durable HD-PE material resistant to scratches (high density polyethylene). Folding pallet boxes can also be obtained in many variants, such as with skids, wheels or feet and in sizes such as: 1200x1000x1000mm and 1200x800x1000mm.
#7 Purchase of new containers or rent?
In Rotom's offer you will find box containers in various sizes and for many applications. Additionally, you can buy accessories for box containers, e.g. container covers. However, if you do not plan to purchase box containers or do not have enough storage space, we offer pallet box rentals on favorable terms. Thanks to this, you don't have to incur unnecessary costs of storing these packages when they are not in use. Rental of pallet boxes is also flexible because with Rotom you can easily extend the rental period.