The current increase in automation of production processes is changing the way employees work and helps increase efficiency, consistency and productivity. However, these improvements would not be possible without the use of reliable plastic pallets.
The beginnings of automated production date back to the 1960s. It was then that industrial robots appeared in which automated palletisation became the standard due to the ability to handle many different products.
Around the same time, the first plastic pallet was created, first mentioned in Modern Materials Handling in 1964, and it was this innovation that helped transform manufacturing processes into automatic palletising as we know it today.
The use of plastic pallets
Plastic pallets are great for automated production systems because they have the same dimensions. They are manufactured under extreme pressure in polished molds, which guarantees 100% consistency in size and weight, meaning they work seamlessly with automatic handling equipment. This way, you save on unnecessary costs and inconveniences related to machine downtime and improve work efficiency.
Changing consumer demands and faster delivery expectations mean today's warehouses rely on automation to ensure consistent flow. Therefore, nowadays plastic pallets are becoming more and more popular as a method of storing and transporting a wide range of products from various industries.
Plastic pallets offer many other advantages in terms of applications, such as moving and storing products in warehouse facilities, reusing pallets in closed distribution systems or using them to display products in a store. Plastic pallets have many advantages, which certainly contributes to their increased use. Let's check out some of them.
The best choice for transport in increased phytosanitary conditions
The unique feature of plastic pallets is that they are ideally suited for use with products that need to be transported as hygienically as possible without any contact with sources of contamination. Industry sectors that may require these types of pallets include food and drink manufacturers (especially for the transport of fresh produce such as meat, fish and dairy), supermarkets, the pharmaceutical sector, the automotive industry and wherever simply wooden packaging cannot be used.
Full-metal hygiene pallets are particularly recommended for this industry, without external rib with food-contact approvals. It is sufficient to wash and clean it to meet certain requirements. Plastic surfaces after washing retain 4 times less bacteria than indicated by the germicide standard. Plastic is also resistant to chemicals and solvents and does not promote mold and fungal growth.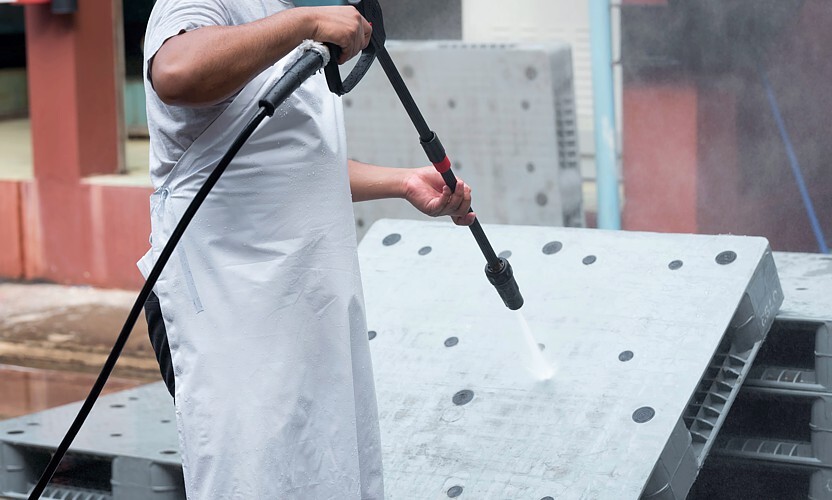 Not only does the food industry use this type of pallet. It is also increasingly appreciated by the pharmaceutical, chemical and even automotive industries. Pallets are also used in large logistics companies and individual transport companies. The demand for plastic pallets is growing all the time.
Durability and the safe use of pallets
One of the main advantages of plastic pallets is their durability and the ability to withstand a huge weight. Moreover, they also ensure constant dimensional accuracy and load capacity. The average service life of a plastic pallet is approximately 10 years. It is therefore a strong product and ideal for use by companies that need to ship items overseas. Especially in international exports, plastic pallets are becoming more and more popular because they do not require the use of the ISPM15 certificate and are resistant to chemicals, corrosion and weather conditions.
In most cases, plastic pallets have a four-way entrance for forklifts, which makes it much easier to handle them around warehouses, while maintaining their strength. You can easily load and unload a plastic pallet from a forklift, which increases the speed of the supply chain in industries.
High structural strength of plastic pallets to heavy loads
Plastic pallets work well in pooling, i.e. the circulation of pallets. In this case, stronger pallets should be selected for safe use in continuous operation. Their design is also important so that they can be cleaned regularly. For many businesses, this is a beneficial solution because then you do not have to worry about buying disposable pallets, storing them in a warehouse or checking their quality etc.
The pooling service consists of organising the circulation of pallets between the entity introducing the pallets into circulation, the distribution center and even the end customer so that the pallet is finally returned to the entity that initiates the circulation. With such an intensive circulation, plastic pallets are the perfect solution. They are characterised by high strength and long service life. Made of the best materials (HDPE and PE), they do not cause any problems in use. Some models plastic pallets have special metal reinforcements, effectively increasing the load-bearing capacity parameters everything when storing goods in racks.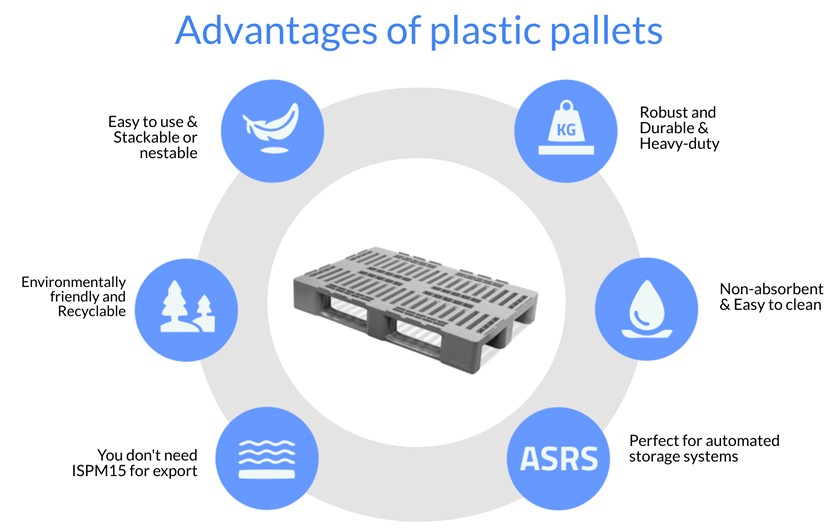 Environmentally friendly pallets
Plastic pallets have many properties that can make them an excellent environmental option for companies looking to grow in a sustainable way while reducing CO² emissions. Plastic pallets are molded to ISO 14001, making them the perfect choice for companies that care for the environment. Firstly, they have a long service life which helps keep costs down. They can be reused for a long time without cracking. They are perfect for storage and to be re-used in warehouses. They are durable, light and spatter-free and easy to handle by hand. The durability of plastic pallets makes them ideal for use on pallet wrappers.
Moreover, pallet pooling has been proven to significantly reduce the negative environmental impact of logistics, thanks to the maximum use of each pallet's life cycle and the recycling of damaged pallets. When a plastic pallet is no longer usable, it does not become a useless waste. On the contrary, it is 100% recyclable and can be used to make new pallets or other plastic products.
Plastic pallets are widely known to be stackable and rackable, so you can have more space in your warehouse as they can be perfectly stacked on top of each other. Moreover, the possibility of nesting them facilitates optimal storage, saving every meter of valuable space.
Buy new plastic pallets or rent pallets?
The interest in purchasing this type of assortment is visible both among large and small companies. Their use is mostly decided by companies that export goods abroad. The most popular models are 1200 × 800 and1200x1000 . Nestable pallets are very popular, which allow you to stack one inside the other and pallets with a smooth top that are easy to clean and disinfect, but the choice of plastic pallets is much greater.
If your industry is highly seasonal and you want to avoid the costly storage of unused packaging, feel free tohire pallets plastic . It is a quick and simple process that requires no additional financial resources. Thanks to this, you can serve your clients during the so-called in high season, without additional investment in the purchase of additional pallets.
At Rotom we offer many styles and sizes of pallets, including typical pallets and pallets equipped with additional elements, e.g. reinforcements, rims, etc. Many different types and models of pallets (not only plastic) can be found in our shop Rotomshop.co.ukThe online store offers a wide range and supports you in choosing the right pallet model. For larger purchases, we invite you to submit an inquiry on the Rotom.co.uk website, where our sales department will prepare an individual quote for you.