Meeting the high cost of logistics packaging and seeking innovative sustainability solutions are now priorities in the supply chains of many industries. Today, companies are trying to find a trade-off between business growth, reducing their carbon footprint, and generating excessive waste.
In recent years, customers, investors, and governments have increased pressure on companies to demonstrate greater environmental care and social responsibility. It comes at a time when the business case for sustainable operations is growing every year. According to McKinsey & Company, the supply chains of consumer goods companies account for more than 90% of environmental impacts. What role does custom packaging play in these processes? Do they have a tangible impact on long-term business growth?
For many companies, high costs seem to be the main obstacle to implementing more sustainable logistics. However, when they started measuring the environmental impact of their goods and services from the beginning to the end of their cycle, it became apparent that many cost-effective changes could be made.
More and more companies have seen the benefits of investing in a custom packaging that operates in a closed-loop for many years. Such investment leads to reduced shipment size and number, a smaller environmental footprint, and financial savings. What other reasons might there be for switching to custom packaging? Let's look at a few issues.
The four most significant problems with standard packaging
Sometimes traditional material handling solutions don't provide maximum efficiency in your facility. Some of the common reasons companies look for custom solutions are:
1. The need for more functionality
Perhaps your packaging needs to meet higher requirements than what is typically offered, such as a higher load capacity or different dimensions. Many packages have predetermined storage and transportation limitations. In their case, standard packaging may not be the right choice because it either doesn't provide the extra protection required or doesn't fit the shapes and dimensions of these products.
The answer to this problem is to invest in specially designed merchandising solutions. For example, you may need packaging that better fits the product without leaving any space, or your product requires customization of special packaging for properties.
2. Reducing the amount of waste
One of the biggest challenges for the manufacturing industry is the amount of waste generated from shipping and storage packaging. This waste adds up in landfills and generates unnecessary costs for companies. Companies must dispose of the waste they generate, plus wasted packaging means the company has paid for the material it didn't use, inflating business costs.
On the other hand, custom packaging is manufactured exactly for the product, reducing the number of fillers, films, and other waste materials that temporarily protect the product.
3. Poor ergonomics and damage
If the packaging is inconvenient to handle, problematic to store and transport, it can cause injuries, leading to workers' compensation claims and absenteeism(OSHA statistics). It can also result in product damage. Packaging that directly or indirectly leads to scratched or damaged products can be costly to your business. In turn, damaged products that reach consumers can negatively impact your company's image and result in lost sales.
4. Ineffective use of space
Storage is another aspect of materials handling that requires custom solutions for increased efficiency. If standard storage packaging is not effectively utilizing storage space, it may require employees to do more work.
Businesses can make better use of storage space with custom packaging. Well-chosen packaging makes it easy to find space for any parts, products, and materials you need to store or transport.
Why choose packaging design?
Many companies hesitate at the thought of ordering customized solutions, fearing higher costs and longer lead times. However, the benefits of custom warehouse solutions far outweigh any upfront costs. These benefits come down to one main factor - custom warehouse equipment is built specifically for your product needs. What does this mean for warehouses?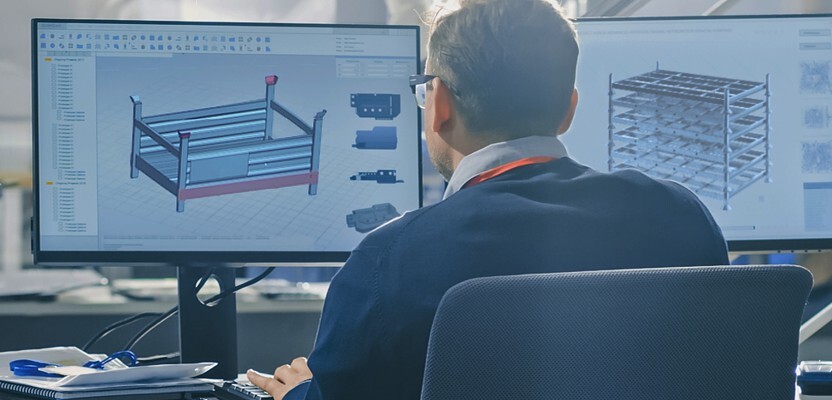 Here are the top 5 benefits of custom packaging:
1. Maximum productivity
Improved productivity is a major benefit of custom packaging solutions. Because they are customized from the start to meet your company's specific needs and goals, they fit seamlessly into existing processes, maximizing labor efficiency.
2. Reduced labor costs
Reducing labor costs is undoubtedly the key to keeping warehouses profitable. Custom packaging solutions help reduce manual labor, sometimes even eliminating it.
3. Increased safety:
Keeping warehouses safe is another challenge. Standard equipment doesn't always make it easy to use, requiring additional manual labor. It creates potential safety concerns for warehouse workers. On the other hand, specially designed packaging can have ergonomic, special safety features that fit perfectly with work processes.
4. High Quality
Custom packaging also provides higher quality as compared to some traditional media. The designers of such custom packaging are keen to ensure that every packaging has a high standard of quality and durability. The robustness of the manufacturing ensures that such designed packaging has a much longer life cycle than standard options.
5. Cost-effectiveness
All the advantages of custom warehouse packaging come down to one overriding advantage - cost-effectiveness. While custom packaging, or shipping carriers, may initially cost more than their prefabricated counterparts, in the long run, custom solutions provide greater efficiency, lower labo costs, and more excellent worker safety. And given that these packages are designed once for many years and operate in a closed-loop, over time, they provide an excellent return on investment with significant savings.
What is the custom packaging design process like?
If you need custom logistics packaging, our product specialists and engineers will work directly with you to determine exactly what you need and develop a solution that fits seamlessly into your workflows. So how does this process work?

The custom packaging design and construction process involves:
Design initialization
The process begins when our product specialists discuss your packaging project with you. During this step, we will learn about your current system and the challenges you face with the packaging you currently use. Next, we'll identify your company's needs and goals to develop an outline for your future design.
In the next step, we'll introduce you to our approach to packaging design and show you the solutions, explaining the engineering process, so you know what to expect. We'll work closely with you throughout this process to ensure our goals and processes are aligned with your expectations./p>
Engineering
After working through the details with you, we will develop a packaging concept, engineering drawing, and 3D model from which a prototype is created that addresses each of the needs identified in the initial stage. Once the design is finalized, we will contact you to see the concept before production begins and make any necessary adjustments.
Delivery
Once the design is finalized, budgeted, and priced, all revisions are applied, testing is done, and the packaging is ready for mass production.
We'll keep you informed of progress and expected delivery date throughout the deployment process, making sure we provide a reasonable timeframe without sacrificing quality for a fast deployment rate. Once the project is complete, we will notify you and deliver the packaging directly to your facility.
Support and maintenance
Using specially designed packaging, we take care of the quality of your packaging. At Rotom's warehouses throughout Europe, each container is professionally maintained so that it will last for many years. And thanks to our packaging management system (RTI management), we have an exact overview of the number of packages in transit and in storage. This makes it possible for the full pool of custom packaging to be handled efficiently, eliminating the process of manufacturing new carriers.
We can use these steps to modify your existing packaging to suit your needs or develop a completely new product that fits your application seamlessly.
Examples of non-standard packaging designs
Rotom has been designing custom packaging for its partners for many years. Moreover, it takes care of the production process and the repair and maintenance of packaging already in use and ensures the circulation of this packaging in many places in Europe.
Below you can see some of our custom packaging projects for customers in various industries.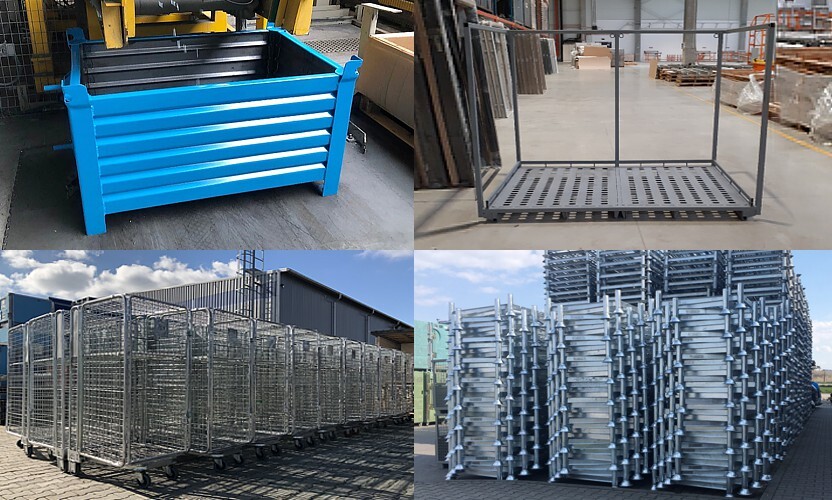 Industrial sector - for a large metal parts manufacturer producing metal components, we built special metal containers tailored to the customer's production process.
Retail - We built special metal roll containers used for transporting small products in the warehouse for a large DIY chain. We also perform regular service and maintenance of mesh roll containers there. (Leroy Merlin)
A construction industry client producing high-quality doors and frames needed specially designed transport baskets according to their own design, necessary for storing non-standard products. (Porta)
Electronics industry - for a customer with extensive warehouse facilities, we built thousands of special Mobilrack storage racks, made especially for storing electronic components. (LG)
Handling of customized closed-loop packaging
Room manufactures packaging and manages the entire returnable packaging process to support customers in their logistics processes. The idea is that packaging can work for many years in circulation once designed, and we help with the entire flow of your packaging between company locations, suppliers, and customers.
What does this mean in practice? Let's say you use custom wood pallets in your supply chain. In this situation, we take care of the entire process, from delivering empty pallets or recovering them and shipping them to your location. With one central control center for this process, we ensure a fast flow of information based on actual quantity and location data. In this way, we optimize the flow of returnable packaging to reduce transportation costs and make efficient use of each package.
When you tell us to ship your packages, we know where they will be sent next. As soon as they're ready for pickup, you return them to our warehouses, where, in turn, repair and cleaning take place. By managing all the logistics of transporting your custom packaging from the point of manufacture to the return at the end, we take the burden of responsibility off your shoulders and reduce the cost of purchasing new packaging for your next shipment.
The impact of packaging pooling on sustainability
Because each custom packaging can be operated for many years, it will be used hundreds of times. It will conserve natural resources, reduce packaging waste and contribute to the circular economy.. You save money, time, and space. We take care of everything else: from packaging delivery and collection to storage, professional service, and recycling.
With pooling, your company will significantly increase the efficiency of its logistics processes and save valuable resources. How. By continuously and repeatedly using custom reusable packaging in an endless loop. The closed-loop cooling system is uncomplicated and works great for many industries.
Enhance your logistics with packaging design
Innovation is predicted to drive the pace of sustainability all the time in the coming years. Two trends that are particularly prominent in this area are the closed-loop economy and data-driven supply chains. It involves removing large amounts of pollution and waste from products and systems such as supply chains. In this system, the packaging is designed to have a low environmental impact, be more durable, and be easily disassembled or converted for reuse.
And in data-driven supply chains, thanks to RFID and IoT sensors, you have visibility into your logistics operations so that you can more quickly implement and monitor strategies for sustainability. We are here to help you with these aspects. Contact us, and we'll be happy to talk about how we can support your company's supply chains in this regard.